Your iPhone makes it easy to open a Web page. By following the steps described here, you'll be surfing the Web on your iPhone in no time.
Tap the Safari icon at the bottom of the Home screen.
It appears along with the Phone, Mail, and iPod icons.
Tap the address field (labeled in this figure).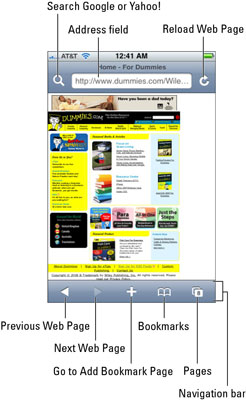 If you can't see the address field, tap the status bar or scroll to the top of the screen.
Begin typing the Web address, or URL, on the virtual keyboard that slides up from the bottom of the screen.
The URL is known as the Uniform Resource Locator.
Do one of the following:
To accept one of the bookmarked (or other) sites that show up on the list, merely tap the name. Safari automatically fills in the URL in the address field and takes you where you want to go.
Keep tapping the proper keyboard characters until you've entered the complete Web address for the site you have in mind, and then tap Go at the bottom-right corner of the keyboard. It is not necessary to type www at the beginning of a URL. So to visit The Onion, for example, typing theonion.com is sufficient. You are transported to the site in question.
About This Article
This article can be found in the category: