Windows 8.1 appears in five — count 'em, five — different versions. Three of those versions are available in 32-bit and 64-bit incarnations. That makes eight different versions of Windows to choose from. And if you want Windows Media Center, you only have two choices, and it'll cost you more.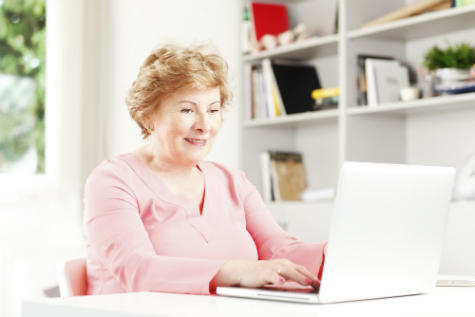 Credit: ©iStockphoto.com/Szepy
Fortunately, most people need to concern themselves with only three versions, and you can probably quickly winnow the list to one. Contemplating the 32-bit conundrum may exercise a few extra gray cells, but with a little help, you can probably figure it out easily.
In a nutshell, the five Windows versions (and targeted customer bases) look like this:
Windows 8.1 for Emerging Markets is tailored for specific countries and available only in specific languages.

Windows RT, quite possibly the worst name Microsoft has ever given any product, isn't really Windows because it won't run old-fashioned Windows programs and it doesn't have a real Windows 7–style desktop. Windows RT is Microsoft's iPad-wannabe, built on a completely new kind of computer, commonly called ARM.

It contains the tiled interface, five customized Office-like apps (Outlook, Word, Excel, PowerPoint, and OneNote), File Explorer, and Internet Explorer on an ersatz desktop.

Windows 8.1 — the version you probably want — works great unless you specifically need one of the features in Windows 8.1 Pro. A big bonus for many of you: This version makes all the myriad Windows languages — 96 of them, from Afrikaans to Yoruba — available to anyone with a normal, everyday copy of Windows, at no extra cost.

Windows 8.1 Pro includes everything in Windows 8.1 plus the ability to attach the computer to a corporate domain network; the Encrypting File System and BitLocker for scrambling your hard drive's data; Hyper-V for running virtual machines; and the software necessary for your computer to act as a Remote Desktop host — the "puppet" in an RD session.

You also need Windows 8.1 Pro if you want to run Windows Media Center, which is an extra-cost add-on.

An added bonus: If you want to buy Windows on Microsoft hardware, the Microsoft Surface computers come with Windows 8.1 Pro and Windows RT (but not Windows 8.1 itself). Surface computers are capable, junk-free, innovative — and pricey.

Windows 8.1 Enterprise is available only to companies that buy into Microsoft's Software Assurance program — the (expensive) volume licensing plan that buys licenses to every modern Windows version. Enterprise offers a handful of additional features, but they don't matter unless you're going to buy a handful of licenses or more.
Windows Vista and Windows 7 both had "Ultimate" versions, which included absolutely everything. Win8.1 doesn't work that way. If you want the whole enchilada, you have to pay for volume licensing and the Software Assurance program. And then you have to buy Windows Media Center.
Before you tear your hair out trying to determine whether you bought the right version, or which edition you should buy your great-aunt Ethel, rest assured that choosing the right version is much simpler than it first appears.
Buying the right Windows 8.1 version the first time
What if you aim too low? What if you buy Windows 8.1 and decide later that you really want Windows 8.1 Professional? Be of good cheer. Switching versions ain't as tough as you think.
Microsoft chose the feature sets assigned to each Windows version with one specific goal in mind: Maximize Microsoft profits. That's why you find plenty of upgrade routes and plenty of opportunity to spend more money in the Add Features to Windows program.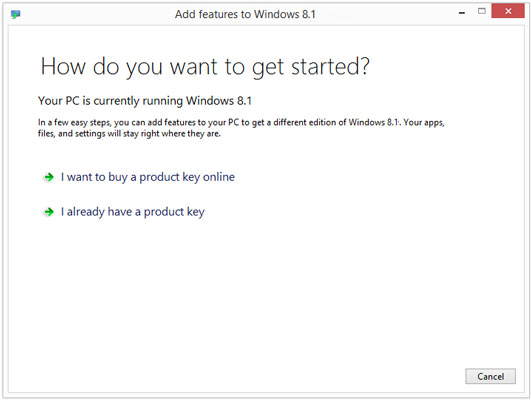 All it takes is a credit card and a Microsoft Account to upgrade from Windows 8.1 to Windows 8.1 Pro, or to add Windows Media Center to Win8.1 Pro.
Upgrading is easy and cheap, but not as cheap as buying the version you want the first time. That's also why it's important for your financial health to get the right version from the get-go.
Narrowing the Windows 8.1 version choices
You can dismiss three Windows versions out of hand:
Windows for Emerging Markets probably isn't even available where you live.

Windows RT 2 may be a good choice if you aren't the least bit interested in running older Windows programs, and you can live in a very touch-centric universe, with versions of Outlook, Word, Excel, PowerPoint, and OneNote that are very different from the versions you use now. Windows RT is only available pre-installed on new computers.

Windows 8.1 Enterprise is only an option if you want to pay through the nose for five or more Windows licenses, through the Software Assurance program. Microsoft may change its mind — either lower the price for small bunches of licenses and/or make the Enterprise version available to individuals — but as of this writing, Enterprise is out of the picture for most of you.
That leaves you with plain vanilla Windows 8.1, unless you have a crying need to do one of the following:
Connect to a corporate network. If your company doesn't give you a copy of Windows 8.1 Enterprise, you need to spend the extra bucks and buy Windows 8.1 Pro.

Run Windows Media Center. If you have a lot invested in your older Media Center, you may want to pay for it in Windows 8.1. Only Win8.1 Pro will run Media Center.

Play the role of the puppet — the host — in a Remote Desktop interaction. If you're stuck with Remote Desktop, you have to buy Windows 8.1 Pro.

Note that you can use Remote Assistance, any time, on any Windows PC, any version. This Win8.1 Pro restriction is specifically for Remote Desktop, which is commonly used inside companies, but not used that frequently in the real world.

Many businesspeople find that LogMeIn, a free alternative to Remote Desktop, does everything they need and that Remote Desktop amounts to overkill. LogMeIn lets you access and control your home or office PC from any place that has an Internet connection.

Provide added security to protect your data from prying eyes or to keep your notebook's data safe even if it's stolen. Start by determining whether you need Encrypting File System (EFS), BitLocker, or both. Win8.1 Pro has EFS and BitLocker — with BitLocker To Go tossed in for a bit o' lagniappe.

Run Hyper-V. Some people can benefit from running virtual machines inside Windows 8.1. If you absolutely have to get an old Windows XP program to cooperate, for example, running Hyper-V with a licensed copy of Windows XP may be the best choice. For most people, VMs are an interesting toy, but not much more.
Windows 8.1 Pro is also an excellent choice if you're sold on the Microsoft Surface tablets. At least as of this writing, Microsoft only offers its own tablets in Windows RT and Windows 8.1 Pro versions.
In addition, you need Windows 8.1 Pro if you want to do an in-place upgrade from Windows 7 Pro or Ultimate, but in-place upgrades have their own quirks.
About This Article
This article can be found in the category: