The Control Panel in Windows 7 is the place to go when you need to make changes to various settings of your computer system. You can control most Windows commands and features using the various options and sliders in the Control Panel.
To open the Control Panel, click the Start button on the taskbar and then click Control Panel on the Start menu. Windows 7 gives you three different views for looking at your computer's Control Panel: To switch views, click the View By drop-down button (labeled Category by default) in the upper-right corner of the Control Panel and then choose one of the views from the button's drop-down menu.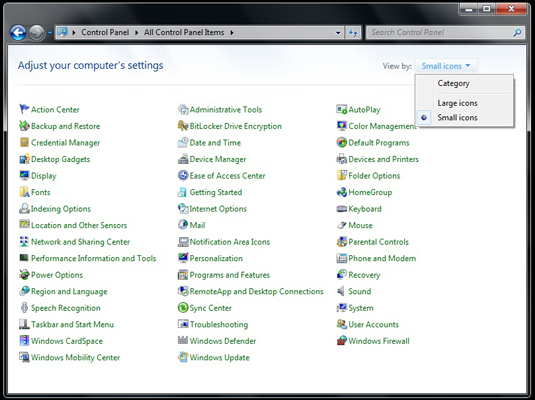 Category view
By default, the Control Panel is displayed in Category view, which is separated into eight categories, ranging from System and Security to Ease of Access. To open a window with the Control Panel options for any one of these categories, simply click the category's hyperlink.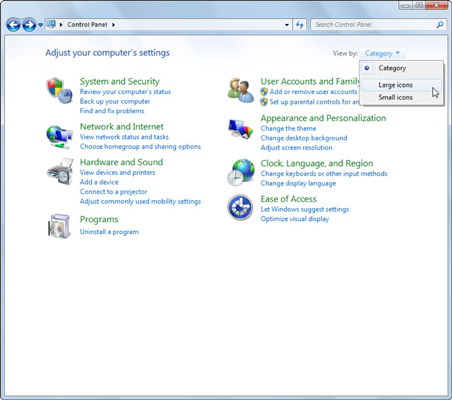 The following table gives you a description of all the Control Panel categories, including the various programs you can find by clicking each category's hyperlink.
| Click This Category Link . . . | . . . To Display These Groups of Links |
| --- | --- |
| System and Security | Action Center, Windows Firewall, System, Windows Update, Power Options, Backup and Restore, BitLocker Drive Encryption, and Administrative Tools |
| User Accounts | User Accounts, Windows Cardspace, Credential Manager, and Mail (32-bit) |
| Network and Internet | Network and Sharing Center, Homegroup, and Internet Options |
| Appearance and Personalization | Personalization, Display, Desktop Gadgets, Taskbar and Start Menu, Ease of Access Center, Folder Options, and Fonts |
| Hardware and Sound | Devices and Printers, AutoPlay, Sound, Power Options, Display, and Windows Mobility Center |
| Clock, Language, and Region | Date and Time, and Region and Language |
| Programs | Programs and Features, Default Programs, and Desktop Gadgets |
| Ease of Access | Ease of Access Center and Speech Recognition |
You'll notice that some Control Panel windows and dialog boxes can be accessed in more than one way. You can also find most Control Panel programs by doing a Start Menu search.
Icon views
The Control Panel's other two views are Large Icons view and Small Icons view. When the Control Panel is in one of the icon views, Windows displays an alphabetical listing of the more than 50 Control Panel programs on your system, ranging from Action Center to Windows Update. To view (and possibly change) the settings for a particular Control Panel option in one of the icon view modes, you need to double-click the Control Panel program icon.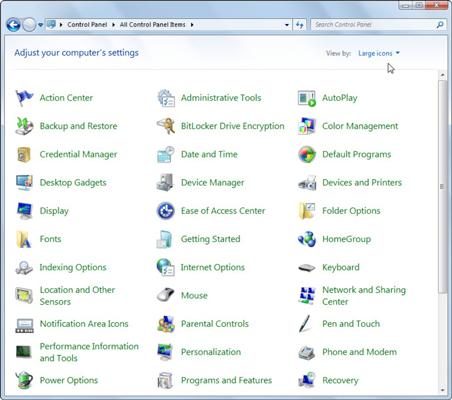 About This Article
This article can be found in the category: