With your music sitting inside your computer's Music folder, or your OneDrive's Music folder in Windows 10, you're ready to crank it up to 11. Here's how.
Tap or click Start→ Groove Music.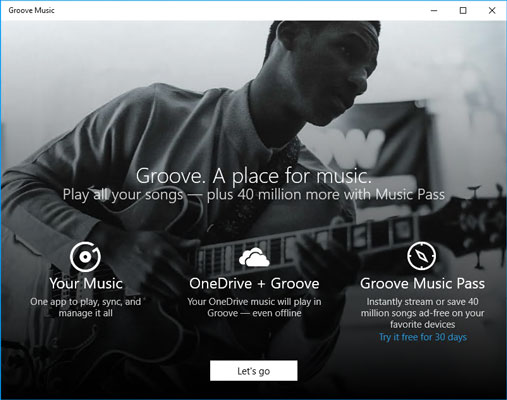 You see the Groove Music window.
At the bottom, click or tap Let's Go.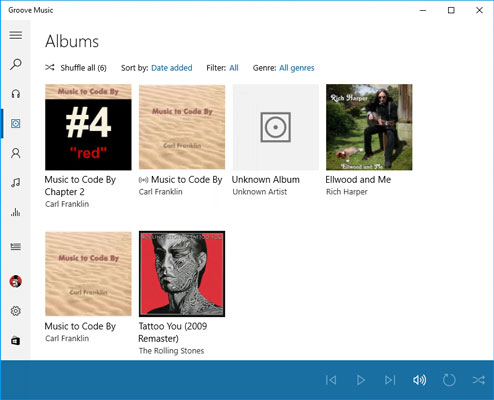 As you can see, Universal Music takes a brave stab at finding and organizing your music, but it doesn't always get the details right. Note that you're in album mode, as shown by the third icon below the hamburger icon.
If Groove Music didn't find all the music on your machine, click or tap the Show Us Where to Look for Music link. Groove Music opens a very hokey touch-centric file picker window.
Hint: If you have music in the Public Music folder, look for c:\Users\Public\Music. No, the Groove Music app isn't smart enough to recognize your Music library or the Public Music folder.
When you've added all the folders Groove missed, click Done.
Double-click one of the artificially assembled albums to play all the songs in the album.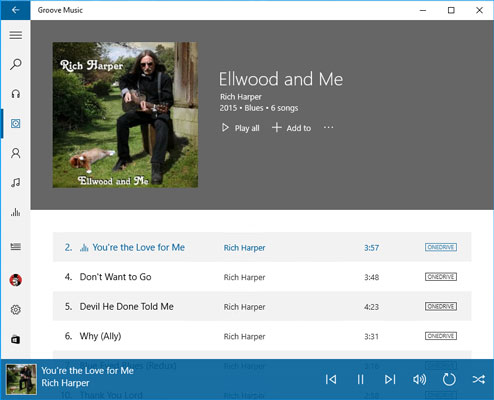 You hear the music and see the playlist, as shown.
Use the playback controls — play, pause, change volume, repeat, fast forward, and so on, at the bottom of the screen — exactly as you would expect.
After you have the music in the machine, and the app knocked upside the head so it can find the music, the rest is easy.
About This Article
This article can be found in the category: