Although it's nowhere near as advanced as Word, you can use WordPad in Windows 7 to create polished, professional-looking documents. Windows 7 has made improvements to the options and features available in WordPad. One of the biggest changes in WordPad is the introduction of a new Scenic ribbon — similar to the ribbon interface in Word — that holds most of the WordPad tools.
To get WordPad going, choose Start→All Programs→Accessories→WordPad.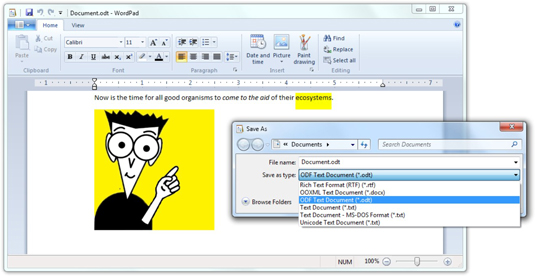 WordPad is primarily intended for typing. But if you need to do some formatting, you can use the tools on the ribbon. Here are a few things to keep in mind:
To format text, select the text you want to format; then choose the formatting you want from the Ribbon. For example, to change the font, click the down arrow next to the font name and choose the font you like.

To format a paragraph, simply click once inside the paragraph and choose the formatting from the Paragraph part of the Ribbon.

To change the page layout (such as margins and whether the page is printed vertically or horizontally, for example), use the Page Setup dialog box. To open it, click the down arrow next to the icon that looks like a piece of paper. Then choose Page Setup.

Tabs are complicated. Every paragraph has tab stops set every half inch. To insert a new tab, just press the Tab key. Add additional tab stops by clicking where you want in the ruler.

You can also set tabs by clicking the tiny side arrow to the right of the word Paragraph and then clicking the Tabs button.

If you create a tab stop, it only applies to the selected paragraph. So, select all the paragraphs you need before adding a tab stop.
WordPad allows you to save your documents in formats that will hold on to the new formatting. You can choose from the following formats:
Rich Text Format (RTF) preserves basic formatting when read by a variety of word processors. RTF documents can have some simple formatting, but nothing nearly as complex as Word 97, for example.

OOXML Text Document (.docx) is the new Microsoft document standard file format, introduced in Word 2007.

Although WordPad can read and write .docx files, it doesn't apply formats in the same way that Word does. If you're not careful, WordPad will clobber much of the original Word formatting.

ODF Text Document (.odt), the OpenDocument format, is the native format for OpenOffice.

Text Document (.txt) strips out all pictures and formatting and saves the document in a Notepad-style regular old everyday text format.
About This Article
This article is from the book:
This article can be found in the category: