Windows 7 offers a quick way for laptop owners to see the things that most affect their little PC's on-the-go lifestyle. You can use the Mobility Center as a one-stop shop for tweaking your laptop's main settings: adjusting brightness, changing the sound volume, saving battery power, connecting to wireless networks, and setting up external displays or projectors.
To get to the Windows Mobility Center, use one of these two methods:
Click Start, choose Control Panel, and click the icon for the Windows Mobility Center.

Hold down the Windows key and press the X key.
Microsoft customizes the options to match your particular laptop's features, so don't worry if your Mobility Center screen looks slightly different from this example: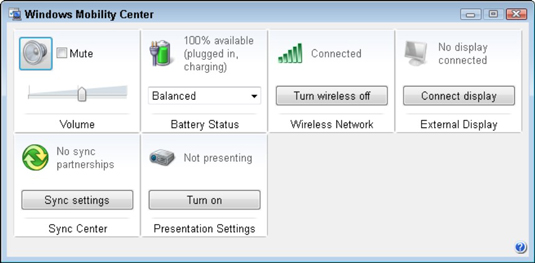 The Mobility Center lets you make quick adjustments to your laptop's main settings, as described in the following list.
Volume: Adjust your laptop's default audio setting using the slider. (Or select the Mute to save batteries.)

Battery Status: Change the settings depending on whether you're plugged in or not. (Don't want to have to keep changing? Leave the setting at Balanced).

Wireless Network: If your laptop offers it, here's an easy-to-find On/Off switch for your laptop's wireless network adapter.

Brightness: If your laptop offers it, use the sliding control to dim your laptop in low-light situations (or simply to save battery power) or increase the brightness when working outdoors.

External Display: Head here to set up your laptop to work with a larger monitor or projector for giving presentations.

Sync Center: Use the settings here to keep your Windows 7 laptop or Windows 7 PC in synchronization with a network server.

Screen Rotation: This feature lets you rotate the screen for easier viewing on an odd-sized display. (This is usually only found on some tablet PCs and netbooks.)

Presentation Settings: This option lets you control what appears on the projector when you hook up your laptop.
Although some buttons take you to yet more areas full of settings, the Mobility Center works well as a launching pad. It's your first stop to customize your laptop to match its latest surroundings.
About This Article
This article is from the book:
This article can be found in the category: