Whenever you plug anything into your computer — printer, MP3 player, whatever — it appears in the Device Stage. The Device Stage is a new Windows 7 feature that helps you keep track of all of the external devices installed on your computer, showing what's available, revealing the device's current status, and providing you with a quick way to interact with the device.
Before Windows 7, every device manufacturer had to come up with its own way of letting you interact with its hardware. This required you to clutter up your PC with a bunch of mediocre custom applications for each device. Now you can see all your devices in one place.
To see the collection of devices you're working with, choose Start→Devices and Printers. Windows 7 presents you with the Device Stage — also known as the Devices and Printers list.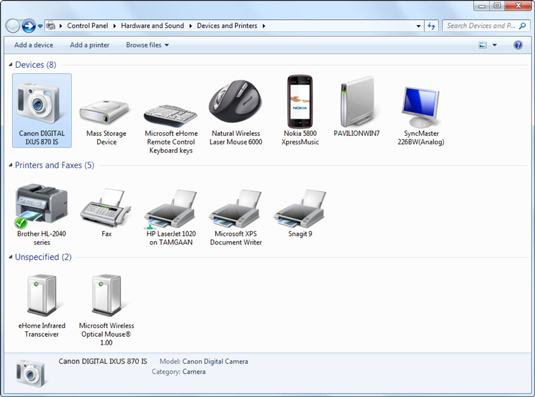 One of the problems with having so many different types of applications to deal with was that you never knew where to find the software. Some placed pop-up messages or icons in the notification area. Others used the AutoPlay box. The Device Stage solves that problem by providing a central hub for all your device interaction. To interact with a device, double-click its icon. You should see a page devoted to that device with links for the various ways that you can interact with it.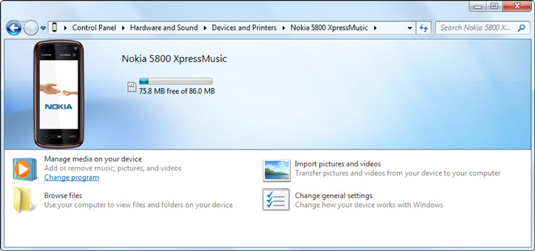 Depending on the device involved, the available actions may include:
Upload and download (syncing) music.

Move pictures from the device to your PC.

Adjust printer settings.

Download software updates for the device or its associated programs.

Browse files on the device.

Search the device's user manual.

Choose among the device's functions; such as choosing between print, scan, and fax for a multifunction printer.

Run out to the Web for all manner of things.

Change internal settings for the device.

Produce status reports that show, for example, the amount of memory being used, the number of print jobs backed up, or the amount of ink left in the cartridges.

Spend money on goodies for the device.
While you're reviewing the Services page for your device, you'll notice that its icon will appear temporarily on the Windows taskbar. If you right-click this taskbar icon, you see a jump list that includes all the same activities.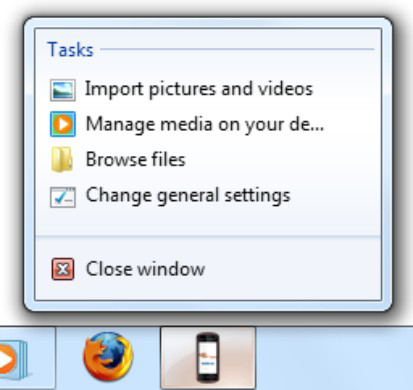 Device manufacturers have to create a particular kind of file, an XML file, to make Device Stage work. The XML file is typically bundled with the driver.
At the moment, not all manufacturers feel compelled to provide Device Stage support, particularly for their older products, but the list of compatible products grows daily. Most non-compatible devices will still show up in the Device Stage. If you double-click on a device that isn't Device Stage ready, you see the same plain-vanilla Properties dialog box that you'll see if you right-click the device in the Device Manager and choose Properties.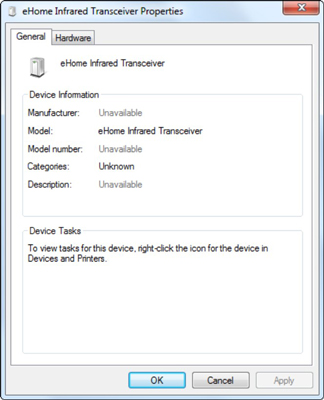 About This Article
This article is from the book:
This article can be found in the category: