Unlike Media Player 11, Windows Media Player 12 no longer offers an advanced editor to allow you to update and correct song tags. Instead, the player edits them for you automatically from an online database. That's all well and good when it gets it right, but there are many times when Windows Media Player 12 lists incorrect tags for your files or simply can't find the right info. When this happens, you need to know how to go in and correct the information.
What's a song tag? It's a small form that contains the song's title, artist, album, and other related information. When deciding how to sort, display, and categorize your music, Windows Media Player reads those tags — not the songs' filenames. Most portable music players, including the iPod, also rely on tags.
If Media Player makes a mistake, you can fix the tags yourself even though the advanced editor has been eliminated.
Right-click the song (or, in the case of an album, the selected songs).
A contextual menu pops up.
Choose Find Album Info.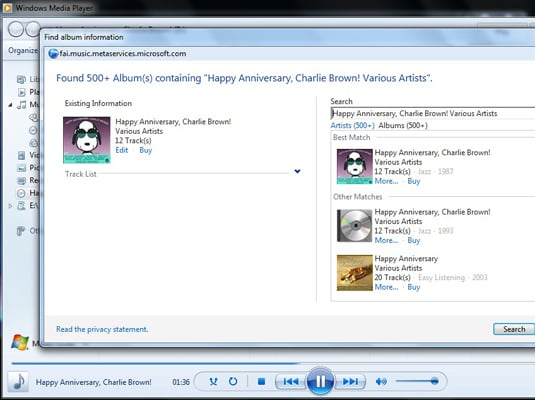 A window appears listing Media Player's guess as to the song or album.
Choose Edit.
A new window appears.
Fill in the tag information the way you want it to appear.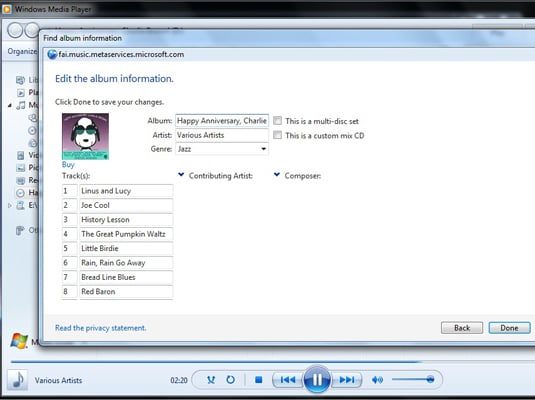 You can identify the album, artist, genre, tracks, title, contributing artist, and composer.
Click Done when you're through tidying up the information.
Media Player will remember your changes and use that information when it catalogues your songs.
About This Article
This article is from the book:
This article can be found in the category: