Whereas the Windows 8 Music app wasn't much more than an online storefront for buying music, the much-improved Music app in Windows 8.1 puts your own music up front. When first opened, the program opens to show the music on your own PC.
Although the app is named Music, it calls itself Xbox Music once opened.
To launch the Music app and begin listening to music, follow these steps:
Click the Start screen's Music tile.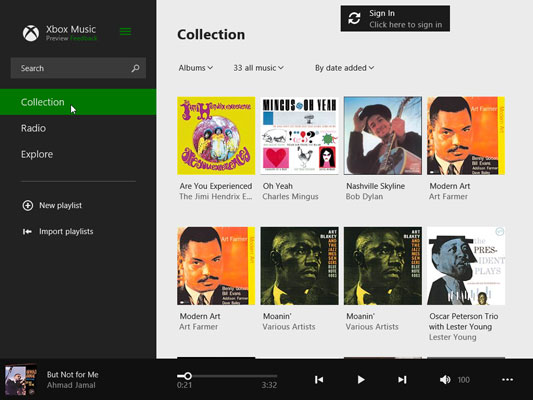 The Start screen appears when you first turn on your computer. To find it from the desktop, press your keyboard's Windows key or click the Start button in the desktop's bottom-left corner.
On a touchscreen, slide your finger inward from any screen's right edge to summon the Charms bar; then tap the Start icon to return to the Start screen.
The app fills the screen with tiles representing your albums or artists.
Sign in with your Microsoft account or your Xbox Live account, if desired, or ignore the sign-in message. Each time you open the Music app, Microsoft tries to link the Music app with your Microsoft account or Xbox Live account. Because those accounts can be linked to a credit card, you need one of those accounts to buy music.
Don't want to buy music? The app still lets you listen to your own music, but you'll see the words Sign In located in the screen's upper-right corner. If you change your mind and want to buy music, click the words Sign In to sign in with a Microsoft account.
To play an album or song, click its tile and then click Play.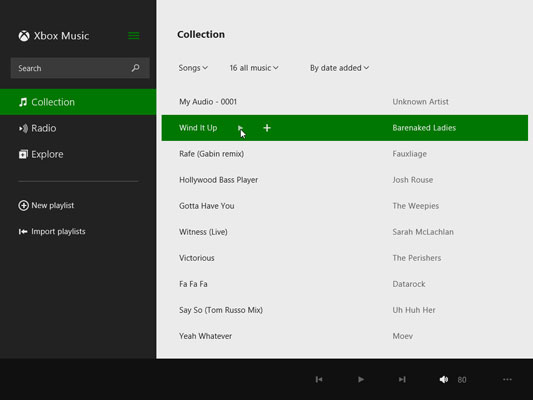 Click a tile for an album or song, click the Play button, and the app begins playing your choice. Depending on the licensing agreements and your own equipment, you can choose to play it on your computer, play it on your Xbox, or add it to a playlist.
Adjust the music while it plays.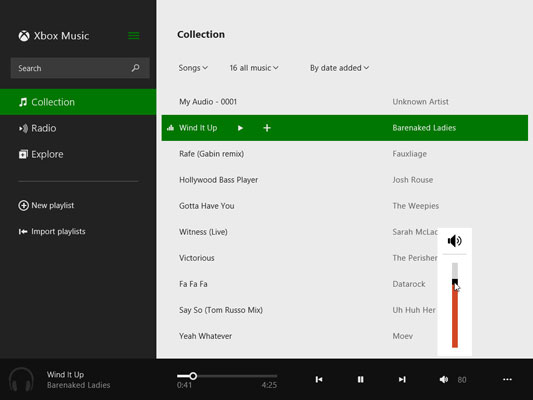 The App bar, shown along the bottom, offers you five icons to control your music: Shuffle, Repeat, Previous (to move to the previous song), Pause, and Next (to move to the next song).
To adjust the volume, click the little speaker on the App bar in the screen's bottom corner. If it's as high as it goes — and you can't hear anything — you need to change your PC's volume control: Summon the Charms bar. Click the Settings icon, click the Sound icon, and slide the volume indicator up or down.
Most touchscreen tablets include a volume toggle switch built in to one of their edges.
The Music app keeps playing music even if you begin working with other apps or switch to the desktop. To pause or move between tracks, you must return to the Music app.
About This Article
This article is from the book:
This article can be found in the category: