The Ease of Access screen in Windows 10 offers many ways to make your computer, mouse, and monitor easier to use. These settings are organized into three categories: Vision, Hearing, and Interaction.

On the Settings screen, select Ease of Access. The Ease of Access screen appears.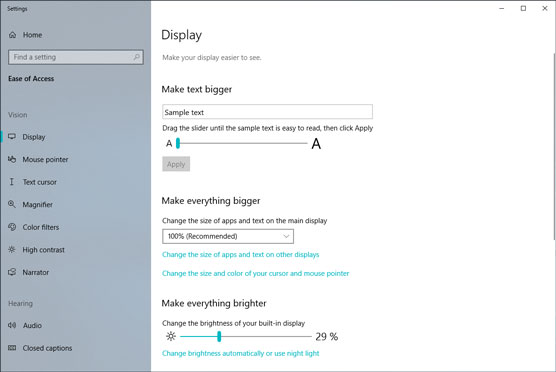 Here's a quick way to open the Ease of Access screen: Press Command +U (for usability).
Vision options
Under Vision, choose the Display settings. These settings make the screen easier to view and read. You find settings here for making text larger and brighter.

You can choose the Mouse Pointer settings to change the size and color of the mouse pointer. As shown, Windows 10 offers mouse pointers of different sizes and colors. Choose the combination that tickles your fancy.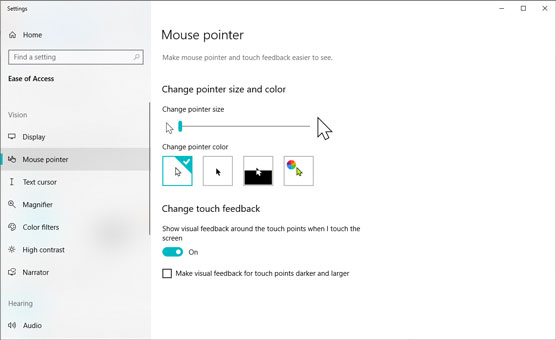 You can choose Text Cursor settings to change the color and thickness of the text cursor. The text cursor is the vertical line that appears onscreen to show you where text will appear when you begin to type.
Choose Magnifier settings to enlarge what is on your computer screen. These settings are for people who have difficulty seeing. When Magnifier is turned on, the Magnifier toolbar appears onscreen, as shown. (Click or tap the magnifying glass icon on the taskbar to see this toolbar, if necessary.) Click or tap the plus sign on the Magnifier toolbar to zoom a portion of the screen for easier viewing. Click or tap the minus sign to see the screen at normal size.

Without turning the Magnifier switch on, you can magnify the screen. Press Command +plus key to zoom in using Magnifier. Press Command +minus key to zoom out using Magnifier.

Choose a Color Filters setting if you are color blind. If you know which type of color blindness you have — deuteranopia, protanopia, tritanopia — you can choose its name on the Color Filters menu to make seeing items onscreen easier.

Choose High Contrast settings to alter the screen in a way that might make seeing text easier. These settings are also for people who have difficulty seeing. After you choose a theme, you can choose a color for text, hyperlinks, disabled text, selected text, button text, and backgrounds. Click Apply after you make your choices. Choose None and click Apply if you want to return to the default Windows 10 contrast settings.

Choose Narrator settings to have content on the screen read aloud. These settings are for people who have difficulty reading. After turning on the Narrator switch, you choose voice, speed, and pitch settings to determine what the narrator's voice sounds like.
Hearing options
Under Hearing, choose Audio Settings to increase the default volume and control whether you hear stereo or mono sound on your computer. If you have poor-quality speakers, turning the Mono Audio option to On can improve the sound.

Choose Closed Captions settings to control how subtitles appear in audio and video presentations. Choose Font settings to describe what you want the text in the captions to look like. Choose Background and Window settings to describe what the box where the captions appear looks like. The Preview box shows what your choices mean in real terms.
Interaction options
Under Interaction, choose Speech settings to dictate text instead of typing it and control your computer and device with voice commands.

Choose Keyboard settings to type without using a physical keyboard. This onscreen keyboard uses the layout of a conventional keyboard. However, most people find that the standard Windows 10 virtual keyboard is more flexible.

Again under Interaction, choose Mouse settings if, for some strange reason, you want to control the mouse with the keys on the numeric keypad.
About This Article
This article is from the book:
This article can be found in the category: