When you right-click the Windows Media Player icon in the Windows 7 taskbar, you'll see a jump list of the songs you listen to most frequently. You can customize the Windows 7 Windows Media Jump List so that so that it shows the items you want instead.
Display your most recently listened to items
You can change a setting in Windows Media Player itself to tell Windows to replace the list of most frequently viewed media with a list of your most recently viewed media files.
To change the way your Jump List works, Open Windows Media Player and choose Organize→Options to display a dialog box with a bunch of tabs for customizing many aspects of WMP. Click the Player tab and select the Save Recently Used to the Jumplist Instead of Frequently Used option at the bottom of the list. Click Apply to change the setting and then click OK to close the dialog box.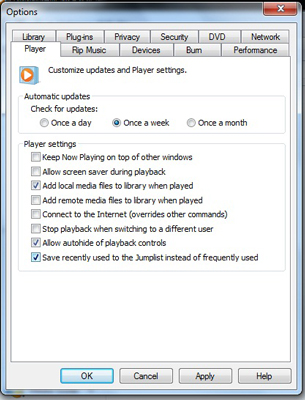 Just deselect this option to have the Jump List go back to displaying the list of your frequently used media.
Pinning favorite items to the jump list
To save your favorite media files to the Jump List, you can pin the items. Pinned items will remain on the list regardless of when they were last listened to. There are many different way to pin items to the Media Player Jump List so that they always appear there.
If an item appears in the main area of the Jump List, hover your mouse over the item name and then click the stick pin that appears to the right of the item.

You can drag a media file directly onto the Media Player taskbar icon.
To remove a pinned item from the Jump List, just hover the mouse over the item, and then click the stick pin to the right of the item. The item will fall off the Jump List.
About This Article
This article is from the book:
This article can be found in the category: