In Windows 7, Jump Lists, which appear when you right-click an icon in either the Taskbar or the Start menu, are intended to be your main jumping off point for accessing the files you've recently worked with. You can customize Windows 7 to change the number of items displayed on Jump Lists from the default 10 items.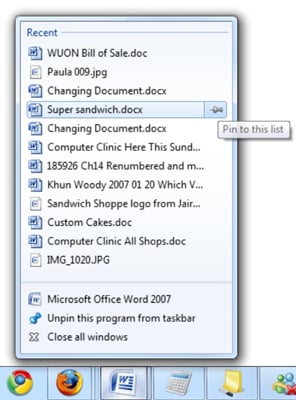 A Jump List that might appear when you right-click the icon for Word.
Right click the Start button and select Properties.

Click the Start Menu tab in the Taskbar and Start Menu Properties dialog box.

Changing the settings on the Start Menu tab changes the Jump Lists on the Taskbar, too.

Click the Customize button.

The Customize Start Menu dialog box opens with a variety of options to choose from.

At the bottom, change the Number of Recent Items to Display in Jump List.

Click the up and down arrows on the spinner box to change the number of items.

Click the OK button and then click Apply.

Next time you bring up a Jump List, it will contain the number of items you selected.
The contents of a Jump List vary depending on the application icon you right-click. They can show everything from recently edited documents for Word to the songs you listen to most frequently for Media Player.
About This Article
This article is from the book:
This article can be found in the category: