To connect to a HomeGroup, you need a password, so Microsoft creates a password every time you set up a new HomeGroup. Although Windows assigns an arbitrary password to you, you can change it at any time, as long as all computers in the HomeGroup are turned on and you can log on to all of them.
Choose Start→Control Panel. In the Network and Internet section, click the Choose HomeGroup and Sharing Options link.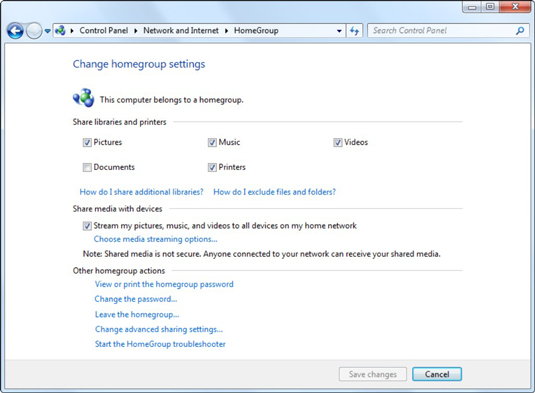 Windows shows you the Change HomeGroup Settings dialog box.
If you don't see Choose HomeGroup and Sharing Options, chances are quite good that your computer isn't connected to a HomeGroup.
Click the Change the Password link.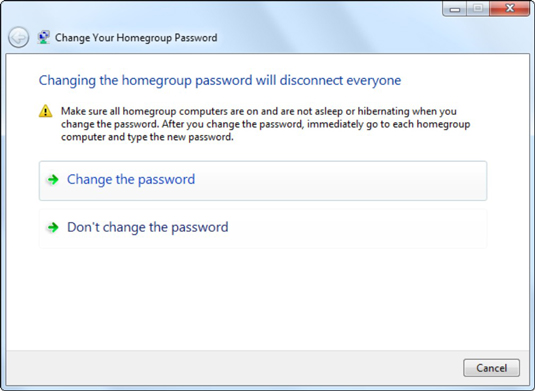 Windows presents you with the Change Your HomeGroup Password dialog box and a warning that all the computers need to be ready before you begin.
Make sure that all computers in your HomeGroup are awake and that you can log on to all of them. Then click Change the Password.
Windows offers a new password for you to use, but you can type one of your own instead.
Click Next.
Your HomeGroup password is dutifully changed.
One by one, go to each of the other computers in your HomeGroup and click Start→Computer→HomeGroup.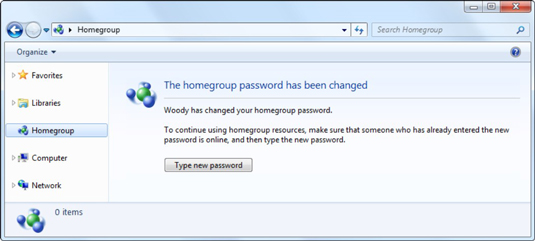 You'll see a warning that the password has changed.
Click the Type New Password button and do precisely that.
You're reconnected to the HomeGroup!
About This Article
This article is from the book:
This article can be found in the category: