Mac OS X Snow Leopard offers the Date and Time Preferences in the System Preferences panel. You can set your Mac to announce the time on the hour or you can choose to let Mac change the time automatically when you change time zones. To open these settings, click the gear icon on the Dock and then select Date & Time.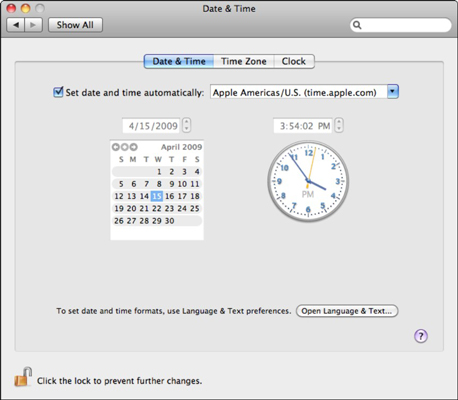 Change date and time preferences.
The three tabs here are
Date & Time: To set the current date, click the date within the mini-calendar; to set the system time, click in the field above the clock and type the current time.

You can't set these values manually if you use a network time server. To automatically set your Mac's system time and date from a network time server, select the Set Date & Time Automatically check box and then choose a server from the pop-up menu that corresponds to your location. (Of course, you need an Internet connection to use a network time server.)

Time Zone: Click your approximate location on the world map to choose a time zone or click the Closest City pop-up menu and choose the city that's closest to you (and shares your same time zone). Alternatively, select the Set Time Zone Automatically Using Current Location check box — a real convenience for MacBook owners who are constantly traveling.

Clock: If you select the Show the Date and Time in Menu Bar check box, you can choose to view the time in text or icon format. You can also optionally display seconds, the date, AM/PM, and the day of the week; have the time separator characters flash; or use a clock based on 24 hours.
Your Mac can announce the time, if you want. If you'd like this helpful reminder, select the Announce the Time check box on the Clock pane, and click the pop-up menu to select an hour, half-hour, or quarter-hour announcement.
About This Article
This article can be found in the category: