From time to time, Google releases software updates for the Chrome OS that runs your Chromebook. Sometimes these software updates are security related, installing these updates when they're available is always a good idea.

To check for updates, follow these steps:
Go to Settings.

If a software update is available for your Chromebook, you see a message like the one shown below.

Checking your Chromebook for updates.

Click Restart to Update.

Your Chromebook downloads the update and restarts.
When you click Settings, you might also see a message like the one below that tells you that apps you downloaded from the Google Play Store have updates available. When you see this message, click Update All.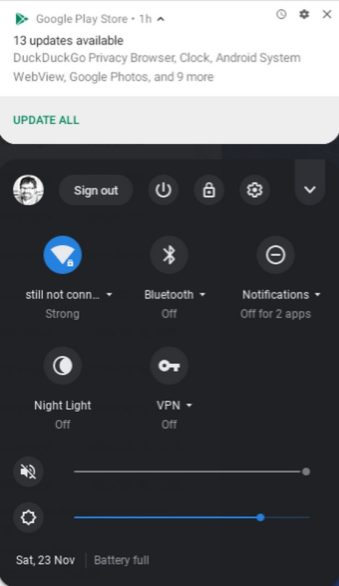 Updating software from the Google Play Store.
In checking for Chrome OS updates, you're just looking at your notifications. It's a good idea to get into the habit of glancing down at the lower-right corner of the screen at the notifications area to see whether Chrome OS wants to tell you things, such as about updates and other issues.
Want more Chromebook Tips? Use our Chromebook cheat sheet to learn more.
About This Article
This article is from the book:
This article can be found in the category: