Even if you love everything about your Chromebook, staring at the same old Chrome browser day after day, month after month, might get a little old. The good news is that several theme apps are available online that can give your Chrome browser a new look.
To apply a theme to your Chrome browser, follow these steps: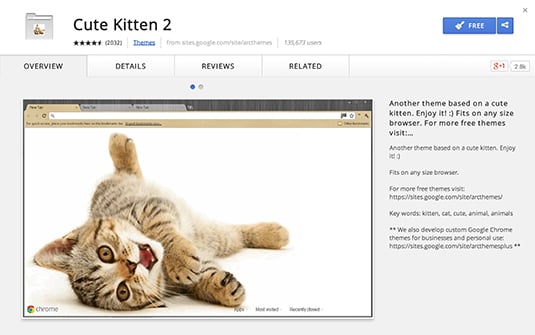 Use a kitty theme to immerse yourself in a wacky world of fuzzy buddies.
Open the App Launcher menu and click the App Store icon.

The Chromebook Store opens in a Chrome browser window. The left side of the screen contains several categories of apps, extensions, and themes.

On the left side of the App Store window, click the Themes link at the bottom of the window.

The Themes section of the store loads.

Select the theme of your choice.

A pop-up window describing the selected theme appears.

Click Install to apply the theme to Chrome.

The theme is applied.
You can use these steps to change the theme again — installing new themes overwrites the existing theme. If you'd prefer to reset your theme to the default Chromebook Theme, follow these steps:
Click the Settings button at the top-right of your Chrome browser window.

In the resulting menu, choose Settings.

The Chrome browser settings appear.

In the section titled Appearance, click Reset to Default Theme.

The theme resets to the default Chrome theme.
About This Article
This article can be found in the category: