If people hadn't started eating fish a long time ago, I doubt that anyone would have had the bright idea of fishing for them just for the fun of it. Now, of course, you know that fighting a good fish thrills you, whether you keep the fish or throw it back. Still, cooking a fish over a fire next to the lake where you caught it will connect you to your ancestors in a way few things can. A well-prepared fish is one of the healthiest, tastiest meals you can eat.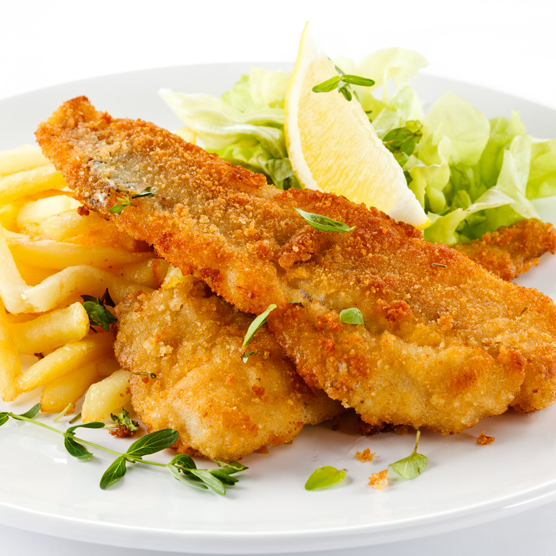 © Jacek Chabraszewski / Shutterstock.com
Crispy, crunchy, salty. The big trick with frying is hot oil. You want the oil to be between 320 and 360 degrees. Use a thermometer and get it right. If the oil isn't hot enough, the coating will absorb a lot of grease, and you have yourself a potential stomach ache with some nice heartburn thrown in for good measure. If the oil gets too hot, you'll notice excessive smoke. With hot oil, the crust is crisp, light, and non-greasy. If you don't have a thermometer, drop a pinch of bread into the oil. With the oil temperature right, the bread should immediately sizzle and jump.
I cook a lot with olive oil these days, which takes a fair amount of heat before it smokes. You can also use canola or peanut oil.
Traditional Fried Fish: According to coauthor Peter, this is the best pan-fried fish recipe. He learned it from a Florida Keys captain many years ago. This captain also imparted that the best cure for seasickness was to wrap both arms around an oak tree.
Reddened Blackfish: Blackening, unless it's done right, is a perfect way to take good food and use it to fumigate your house with smoke. This alternative recipe results in a quick, clean, beautiful red-gold crust of powerful spices — without a smoky kitchen. You can use any fish for this recipe.
Crispy Fish with Asian-Inspired Dipping Sauce: Many anglers relish in the flavor and texture of crispy, freshly fried fish. This recipe is quick and easy to prepare, and you can make the dipping sauce in advance for even more convenience. Any white-fleshed fish works well in this recipe, and the fresher the better. (This recipe is courtesy of Chef Lucia Watson's In-Fisherman Presents Cooking Freshwater Fish.)
If you're new to the traditional fish fry and want to ease into it, look in your local grocery story for any of a variety of pre-packaged seasoning and breading products for fish.
Traditional Fried Fish
Prep time: 10 minutes

Cook time: 20 minutes

Yield: 4 servings
Ingredients
1 cup flour
1 teaspoon salt
1 teaspoon ground black pepper
1 cup buttermilk
1 cup cornmeal
8 fillets of white fish, trimmed to four inches in length
2 to 4 cups vegetable oil, depending on size of skillet
Directions
In a straight-sided cast-iron skillet, heat about an inch of oil to around 375 degrees F. If you use a 10-inch skillet, you can fry two or three fillets per batch.
While the oil heats, combine flour with salt and pepper in a shallow dish. Put the buttermilk in another shallow dish, and the cornmeal in yet another.
Dredge the first two or three fillets (depending on the size of the pan) in the flour mixture. Shake off excess flour, dip the fillets in buttermilk, and dredge in cornmeal.
Carefully place the coated fillets in the heated oil and fry for about 2 minutes.
Use tongs to turn the fish, and fry another 2 minutes. While the second side fries, set a cooling rack on top of paper towels.
When done, the fish will float to the top of the hot oil. Remove the fillets to the cooling rack to drain.
Repeat Steps 3 through 6 with the remaining fillets.
Per serving: Calories 492 (From Fat 104); Fat 12g (Saturated 2g); Cholesterol 174mg; Sodium 591mg; Carbohydrate 27g (Dietary Fiber 2g); Protein 66g.
Reddened Blackfish
Prep time: 10 minutes

Cook time: 10 minutes

Yield: 4 servings
Ingredients
1 teaspoon onion powder
3⁄4 teaspoon oregano
3⁄4 teaspoon thyme
1 teaspoon black pepper
1 teaspoon white pepper
1 teaspoon cayenne pepper
2 teaspoons salt
4 teaspoons paprika
1 teaspoon granulated garlic powder
2 tablespoons corn, peanut, or olive oil
4 fillets of white-fleshed fish (redfish, blackfish, weakfish, snapper, dolphin, and so on)
Lemon wedges
Directions
Rinse the fillets in cool water, pat dry, and set aside.
Combine the first nine ingredients (the seasonings) in a bowl and mix well.
In a pan, heat 2 tablespoons of oil over medium-high heat until hot but not smoking.
While the oil is heating, dredge two fillets in seasoning.
Fry the fillets for 2 to 3 minutes on each side.
Repeat Steps 3 through 5 with the remaining fillets.
Remove the fillets from the heat, and serve with fresh lemon wedges.
Per serving: Calories 290 (From Fat 91); Fat 10g (Saturated 1g); Cholesterol 80mg; Sodium 1,261mg; Carbohydrate 2g (Dietary Fiber 1g); Protein 45g.
Crispy Fish with Asian-Inspired Dipping Sauce
Prep time: 10 minutes

Cook time: 8 minutes

Yield: 2 servings
Ingredients
4 to 6 cups corn, peanut, or olive oil
About 12 ounces of your fish of choice, small fillets cut into finger-sized strips
1 cup cornmeal
1⁄2 cup all-purpose flour
Pinch of salt
Pinch of pepper
Pinch of cayenne pepper
1 egg
1 tablespoon of water
Asian Dipping Sauce (see the following recipe)
Directions
Before starting the fish, prepare the following Dipping Sauce so it's cooled and flavorful when the fish is done.
On the stovetop, heat 2 inches of oil in a deep, heavy pot to 375 degrees.
While the oil is heating, combine the flour, cornmeal, salt, pepper, and cayenne in a small dish.
In small bowl, lightly beat an egg with a tablespoon of water.
Dip the fish in the egg and water mixture; then dredge the fish in the cornmeal mixture.
In batches, carefully transfer the fillets to the hot oil and fry until just done and crispy, about 2 to 3 minutes until golden brown. The fish will float to the top of the oil when done. Use a slotted spoon to remove to a plate lined with paper towels to drain before serving with dipping sauce.
Asian-Inspired Dipping Sauce
Prep time: 7 minutes

Cook time: 5 minutes

Cool: 15 minutes

Yield: 2 servings

6 tablespoons rice wine vinegar

3 tablespoons sugar

1 tablespoon dark soy sauce

1 jalapeño pepper, seeds removed and finely minced

2 tablespoons lime zest (grated lime peel)

Juice of 1⁄2 lime

1 small knob ginger, peeled and finely grated

1 clove garlic, peeled and finely minced

2 tablespoons fresh cilantro, chopped
In a small saucepan, boil the vinegar and sugar together over medium-high heat, stirring until the sugar dissolves. Remove from heat and set aside to cool.
When cooled, transfer vinegar mixture to a small bowl. Stir together with the other ingredients. Taste and adjust the seasoning.
Per serving: Calories 475 (From Fat 148); Fat 17g (Saturated 2g); Cholesterol 80mg; Sodium 498mg; Carbohydrate 49g (Dietary Fiber 4g); Protein 32g.
An oil thermometer helps keep your eye on the oil in the pan so it stays in the range you want. Don't let the oil temp dip below 355 degrees F or above 375 degrees F. Keeping it in the range of 360 to 370 degrees F while cooking is ideal for frying fish.
Serve with steamed white rice or Japanese soba (buckwheat) noodles, and toss with soy sauce and fresh cilantro if you like.
About This Article
This article is from the book:
This article can be found in the category: