If you are considering joining a fantasy basketball league, you need to take into account the following DOs and DON'Ts before considering the players you want to draft onto your team.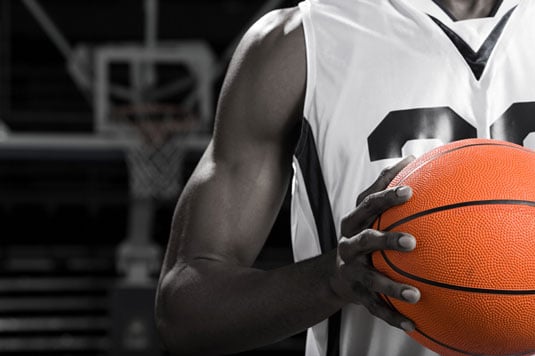 Credit: ©iStockphoto.com/IS_ImageSource
Fantasy basketball draft pick DOs
In most fantasy basketball leagues, the commissioner (person who sets up the league) decides the order in which league members get to draft their players and assigns "keeper" players to all the league members. To perform a successful draft, you need to keep this information in mind as well as a few other important tips:
Do make sure to do your homework.

Perform mock drafts, find cheat sheets, even consider purchasing a draft kit from a reputable online fantasy sports site.

Do check your league's format.

Double-check the format of your league prior to making any rash decisions on which players will work best for you since different league formats score players on different point scales, and player values will vary. Also some leagues draft 10 or fewer players per team, while others use the standard 12–15 player slots.

Do understand how to value your players.

In a standard league, check the player pages and player depth charts to determine the player's value. In a custom league, check the players who interest you and mock score them on their previous seasons stats with the type of scoring your league uses to determine whether the player's value increases or decreases from his average value rating.

Do follow up-and-coming college basketball players.

By following some key players that have the potential of moving up to the NBA from a college team, you will have a basic knowledge base as to whom the "sleeper" players are.

Do know what keepers are and how to use them.

If your team is returning for a second, third, or even fourth season and your league members have remained basically the same members as when you originally created/joined the league, you will have the option to turn your league into a keeper league.

This basically means league members will be given the option to keep a few of the players they had from previous seasons. The league's commissioner determines the number of keepers allowed and sometimes even assigns who is keep-able and who is not. Remember which players worked best for you in the past and check their current ranking to determine whether they are the players you want to keep on your team — permitting they qualify.
Fantasy basketball draft pick DON'Ts
When putting together a fantasy team, it's a good thing to know what not to do, to avoid team losses and the embarrassment of not knowing what you're doing.
Don't try to pick all number one players.

All leagues have a salary cap, and if you try to pick all top players for each available position, you will not only upset the other league members and look like a horse's bottom, but you will exceed your salary cap and not be able to complete the draft anyway.

Try to pick out a variety of players from all rankings and try to find some sleeper players who don't cost much. You may end up with a number one player or two without the salary cost or fellow league member drama.

Don't take a long time to make your picks.

When part of a fantasy sports league, you need to take into consideration the other players' time restrictions as well as your own.

Try to confirm a set time to make trades, perform timed drafts, and even when playing semi-daily or weekly. By having everyone on the same schedule, you'll be able to enjoy gameplay that much more without a lot of long waits.

Don't join a league stop playing half-way through the season.

If you decide you want to join a league, be committed. The season is 82 games long; you're in it for the long run. If you decide to drop out mid-season, you potentially have ruined other members' chances of drafting a better team.
Try to play a daily or weekly league to see whether you like the game and what variation you favor before committing to a full-season format.
If a league member (or you) decides to drop out of the league, often the league will offer an emergency floor trade, so the players "locked" to the no longer existing team can get moved to a team that is still active.
About This Article
This article can be found in the category: