When making the tough decision about which fantasy basketball league to join, you should know the difference between the two main league formats: standard and custom leagues.
Within each of these two categories, you have to choose among several subcategories like the positions included, point scoring system, rotations, stats scored, and trade allowances to determine what game format will best work for you.
For instance, a standard league uses the entire standard format but can score the game in a few different ways. You can base your scores on wins/losses in individual categories or average the score for the whole team in the win/loss format, known as Rotisserie or "Roto."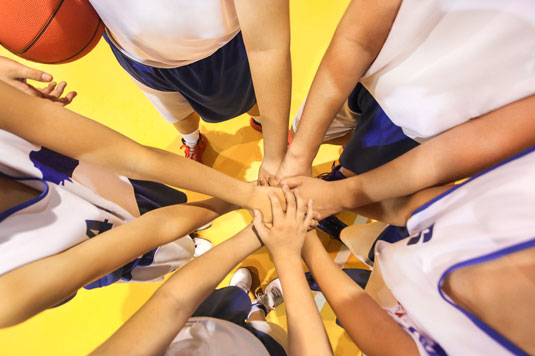 Credit: ©iStockphoto.com/GoodLifeStudio
Another commonly used scoring format is the inclusion of the point system in which some stats are worth more than others, and the points are added up for all players in all categories and then totaled at the end of the season to determine the league winner — Head-to-Head Points.
Standard league format
In a standard league there are 10 active slots and 2–5 bench slots (utility slots) totaling 12–15 players per team:
1 Center (C)

1 Flex Forward (F) – Both power forward and small forward players qualify.

1 Flex Guard (G) – Both point guard and shooting guard players qualify.

1 Point Guard (PG)

1 Power Forward (PF)

1 Shooting Guard (SG)

1 Small Forward (SF)

2–5 Utilities (Utl) — Also known as the bench; any player position qualifies.
The players are scored in these 22 individual categories:
Points (PTS)

Blocks (BLK)

Steals (STL)

Assists (AST)

Offensive Rebounds (OREB)

Defensive Rebounds (DREB)

Rebounds (REB)

Personal Fouls (PF)

Disqualifications (DQ)

Technical Fouls (TF)

Flagrant Fouls (FF)

Ejections (EJ) – Fewer is better

Turnovers (TO)

Field Goals Made (FGM)

Field Goals Attempted (FGA)

Free Throws Made (FTM)

Free Throws Attempted (FTA)

Three Pointers Made (3PM)

Three Pointers Attempted (3PA)

Minutes Played (MIN)

Games Started (GS)

Games Played (GP)
With Rotisserie or Roto, the players are given a win or loss for each category. Either the individual categories are scored through the whole season, or each player is averaged on wins/losses and either receives a win or loss for the week. Those totals are added up at the end of the season to determine the winner.
With Head-to-Head Points the stat scoring is based on the rarity of the plays; more rare events such as blocks and 3-pointers are worth more than more common events like rebounds and free throws. Point values are usually kept in the single digits, so totaling your score at the end of the week and again at the end of the season doesn't result in tracking huge numbers.
In standard leagues an open trade floor often commences once or twice in a season. During the open trade timeframe, you are allowed to trade players from your team to other league members in an attempt to better your overall team standing and hopefully win the season in your league.
Often the trade floor is timed so that the game can get back underway without having to wait on more cautious league members that take entirely way too long to make their picks.
Another common feature of a standard league is daily rotations. Every game day you have the option to rotate your players in and out of the utility slot as well as rotating eligible players in and out of the Flex Forward and Flex Guard slots.
Keep in mind that you don't have to make rotations if you don't want, but that defeats the purpose of including these three slots into the standard league's format.
Custom league formats
Custom leagues usually are designed to make things easier for beginners.
Often custom leagues include only 5 active slots and 2–5 bench slots, totaling 7–10 players per team. The removal of the Flex Forward and Flex Guard slots simplifies scoring and rotations since these slots include players that are eligible for other slots. For example, a Point Guard can be rotated into a Flex Guard slot.
Some leagues even remove the bench all together and only allow the five active slots so no rotations are needed either.
The reduced number of players are scored in the same Roto or point format as a standard league but often the number of stats is greatly reduced as well. For instance, instead of following all 22 stats, your league may follow only the top five stat categories.
Try looking for a custom league that plays weekly instead of daily to avoid the need for constant player rotations. If you are a fantasy beginner, look for a daily or weekly league instead of the full season so you can get the hang of things before you invest many hours into a game that you do not fully understand.
About This Article
This article can be found in the category: