Some mountain ranges give you a wide variety of subjects to photograph. The Smoky Mountains include waterfalls, rivers, lots of trees, and wildflowers. Yosemite National Park also gives you a well-rounded venue of trees, waterfalls, and animals in the valley or venture into the High Sierra and capture wonderful pictures of mirror-smooth lakes with reflections of mountains and the sky.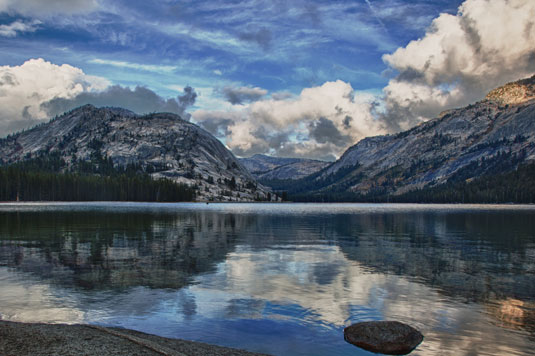 Center of interest in your photo
To create a great image of a mountain range, you need to direct the viewer's eye to your center of interest, just like with any other photograph. Mountain ranges are vast compilations of peaks and valleys. Here are seven tips to find a center of interest for your mountain scenes:
Use a tree as your center of interest. If you're photographing a mountain range from a valley, use a tree as your center of interest, as shown in this image of Half Dome from Cook's Meadow.

Look for a recognizable peak. Many mountain ranges have signature peaks. In Rocky Mountain National Park, Longs Peak is recognizable because it's been photographed so frequently. Yosemite has El Capitan, Cloud's Rest, and Half Dome. Compose your image in such a manner that the recognizable mountaintop is the center of interest.

Look for an unusual rock formation or prominent peak. If the mountain range doesn't have a signature peak, look for an interesting-looking mountain peak or graceful rock formation to use as your center of interest.

Wait for the clouds. Clouds can make an otherwise dull image look interesting. If you photograph a scene with clouds, use your polarizing filter. Remember that a polarizing filter has the best results when you aim the camera 90 degrees from the sun.

Find a winding mountain road or path to direct your viewer's eye. It can be the path in front of you or a path that comes in from the side of your picture. Move around until the path is in a position to draw your viewer into the scene.

Draw the viewer to your center of interest with diagonal lines. The lines can be tree shadows, a fallen tree, a path — see the line with your mind's eye. The diagonal line can also be the side of a mountain.

Use curves to lead the viewer to the most important part of an image. A path, a river, an unusual grouping of trees — nature throws curves at you from every angle.
The perfect vantage point
When you find a vista that you want to photograph, assess the scene and find a center of interest. Walk around the scene, looking for an ideal vantage point — this depends on what you're taking a picture of. As you move around, you see possibilities, and then a picture starts to take shape in your mind's eye. Here are five suggestions for vantage points when photographing mountain ranges.
If the mountains rise high above you, photograph the scene from a low vantage point and place the horizon line in the lower third of the frame. This vantage point gives your viewers a sense of how high the mountains are.

If you're using diagonals to draw your viewer's attention to the center of interest, choose a vantage point that places the diagonal at one of the corners of the frame.

If you're using a path to draw your viewers into the image, crouch low or lie down on the ground for a snail's-eye view. Let the path fill the bottom of the frame from edge to edge.

If you're high in the mountains and you have a lovely cloudscape, climb a little higher and shoot straight ahead to place the horizon line in the lower third of the image. This gives your viewers the sense that you're high in the mountains.

Another alternative for when you're high in the mountains is to point the camera down into a valley. This also gives your viewers the message that you're at a high altitude.
About This Article
This article can be found in the category: