Overview mode on your Nikon D7100 is the second of the two default photo-information modes — meaning that it's already enabled on the Playback Display Options item on the Playback menu. In this mode, the playback screen contains a small image thumbnail along with scads of shooting data — although not quite as much as Shooting Data mode — plus a Brightness histogram.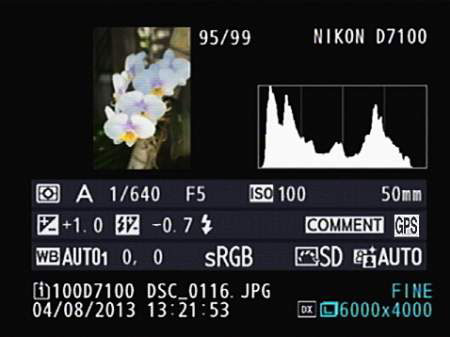 Just above the histogram, you see the Protected Status key and Retouch Indicator, if you used those features (not shown in the figure). The Frame Number/Total Pictures data appears at the upper-right corner of the image thumbnail.
To sort out the maze of other information, the following list breaks things down into the five rows that appear under the thumbnail and histogram. In the accompanying figures, all possible data is included for the purpose of illustration; if any items don't appear on your screen, it simply means that the relevant feature wasn't enabled when you captured the shot:
Row 1: This row shows the exposure-related settings labeled in the figure, along with the focal length of the lens you used to take the shot. As in Shooting Data mode, the ISO value appears red if you had auto ISO override enabled in the P, S, A, or M exposure modes and the camera adjusted the ISO for you.

Row 2: This row contains a few additional exposure settings. On the right end of the row, the Comment and GPS labels appear if you took advantage of those options when recording the shot. (You must switch to the Shooting Data mode to view the actual comment and GPS data.)

Row 3: The first three items on this row, labeled in the figure, relate to color options. The second white balance value shows the amount of blue-to-amber fine-tuning adjustment; and the third, the amount of green-to-magenta adjustment (both values are 0 in the figure). The last item indicates the Active D-Lighting setting.

Rows 4 and 5: The final two rows of data show the same information you get in File Information mode.
About This Article
This article is from the book:
This article can be found in the category: