You can connect your Nikon D7100 camera to an HDTV (high-definition television) and view your pictures and movies on that screen. To take advantage of this option, you need a Type C mini-pin HD cable to connect the camera and TV.
Before making the connection, visit the Setup menu and explore the HDMI option, which offers the following two settings:
Output Resolution: By default, the camera decides the proper video resolution to send to the TV after you connect the two devices. Through this setting, though, you can choose from five specific output resolutions.

Device Control: If your television is compatible with a feature that goes by the name HDMI CEC (Consumer Electronics Control), you can use the buttons on the TV's remote control to perform the functions of the OK button and Multi Selector during full-frame picture playback and slide shows. To make this feature work, set the Device Control option to On.
After you select the necessary HDMI options, grab your video cable, turn off the camera, and then insert the smaller end of the HDMI cable into the HDMI-out port. The port lives under the middle rubber cover on the left side of the camera.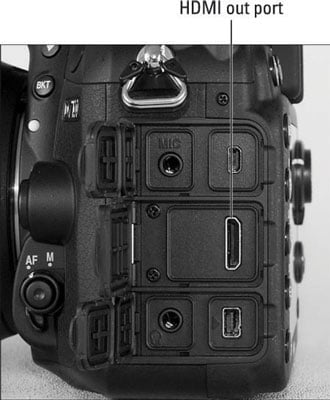 At this point, you need to refer to your TV manual to find out how to connect the other end of the cable to the set itself. You also need to consult your manual to find out which channel to select for playback of signals from auxiliary input devices.
Then just turn on your camera to send the signal to the TV set. If you don't have the latest and greatest HDMI CEC capability (or lost your remote), control playback using the same techniques as you normally do to view pictures on your camera monitor.
About This Article
This article is from the book:
This article can be found in the category: