In single-picture view on your 5300, you can choose from the six display modes. By default, however, only the File Information display is available. To use any other display options, you must enable them from the Playback menu.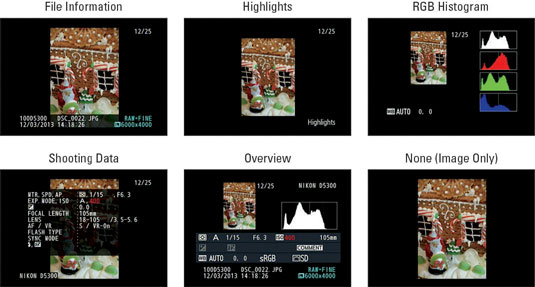 To enable a display option, follow these steps:
Open the Playback menu and highlight Playback Display Options.

Press OK.

A menu listing all hidden display modes appears. A check mark in the box next to a display mode means that the mode is enabled; by default, all modes are turned off.

To toggle a display mode on, highlight it and then press the Multi Selector right.

A check mark appears in the box for that mode.

After turning on the options you want to use, press OK.
After enabling the additional display modes and returning to playback mode, press the Multi Selector up or down to cycle from one display to the next.
The modes are presented in the order they appear if you cycle through the modes by pressing the Multi Selector down. You can spin through the modes in the other direction by pressing the Multi Selector up.
About This Article
This article is from the book:
This article can be found in the category: