Applying the D-Lighting option on your Nikon D3200 allows your camera to capture the image in a way that brightens the darkest parts of the image, bringing shadow detail into the light but leaving highlight details intact.
For example, take a look at the photos in the following figure, where strong backlighting left the balloon underexposed in the original image (on the left).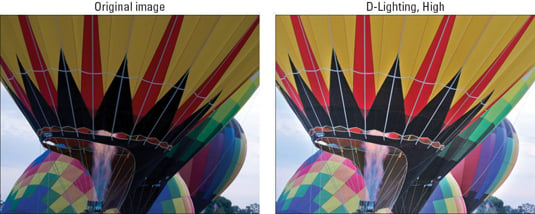 An underexposed photo (left) gets help from the D-Lighting filter (right).
To try the filter, display your photo in full-frame playback mode, press OK to display the Retouch menu, choose D-Lighting, and press OK once more. You see a screen like the one in the following figure, with a thumbnail of your original image on the left and a preview of the retouched image on the right.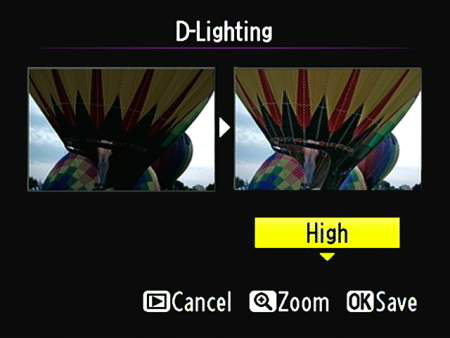 Apply the D-Lighting filter via the Retouch menu.
Here's all you need to know about the filter:
Set the adjustment level: Press the Multi Selector up and down. You get three levels: Low, Normal, and High.

Get a magnified view of the adjusted photo: Press and hold the Zoom In button. Release the button to return to the two-thumbnail display.

Create your retouched copy: Press OK.
You can't apply D-Lighting to a picture taken using the Monochrome Picture Control. Nor does D-Lighting work on any pictures to which you've applied the Quick Retouch filter or the Monochrome filter. Also remember that you can't apply any filters to cropped images you created using the Trim function.
About This Article
This article is from the book:
This article can be found in the category: