The next time you feel the inspiration to go out and take some pictures, consider going on a photo walkabout. When you go on a photo walkabout, you park your vehicle in a central area and start walking. This is a great way to learn all about an area.
Many photographers drive to an area, park their vehicle, shoot some pictures, and drive to another spot. Driving can be stressful, especially if a lot of people are visiting the area you want to photograph. You may think the areas in which you photograph nature are relatively secluded, but state parks can get extremely crowded at certain times of the year.
Before you go on your photo walkabout, do a little research. If you're visiting a state park, see if a trail map is available online. If you're visiting a popular national park like Yosemite, you may find a smartphone application that has a map of the hiking trails.
Pick a trail that's compatible with your physical abilities. This is important if you aren't in tiptop shape and you're going on a walkabout in an area with severe elevation changes.
Go on your photo walkabout when the light is good. Early morning is a great time for a photo walkabout, especially in a place where there may be early morning fog.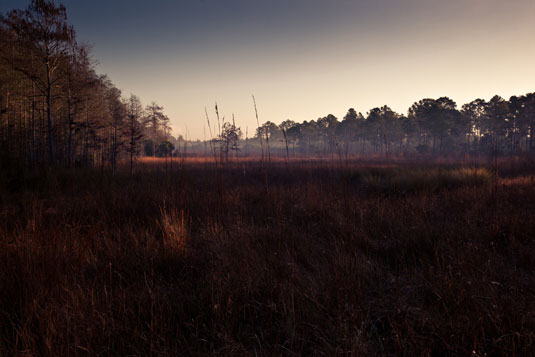 When you go on your walkabout, allot plenty of time for a leisurely stroll. The walking is good exercise; plus, it becomes a meditation and you relax, which enables you to focus your attention on the beauty around you and capture every available photo opportunity.
A photo walkabout will help you get more familiar with an area. Photography is all about fun, and your photo walkabouts can be spontaneous or planned. A photo walkabout will also teach you to approach your photography in a more direct and purposeful manner.
You can go on a photo walkabout with a couple of friends or go solo. Both have their advantages, but sometimes it pays to go solo. When you go alone, you can concentrate on what you want to photograph, and you can stay out as long as you please.
Going on a walkabout with other photographers is a useful exercise. Other photographers may see an area differently than you. You can feed off the other photographers, and they can feed off you.
If you go with others, however, set up some ground rules, such as keeping the chatter to a minimum. A "Chatty Cathy" in the group can disrupt everyone's concentration, or in the case of photographing wildlife, scare off the subjects. Save the talking for when your walkabout is over and you meet in a coffee shop to compare notes and look at each other's photos.
About This Article
This article can be found in the category: