Switching to Close‐up mode on the Rebel T6i/750D doesn't enable you to focus at a closer distance to your subject than normal, as it does on some non‐SLR cameras. The close‐focusing capabilities of your camera depend entirely on the lens you use. (Your lens manual should specify the minimum focusing distance.)

Choosing Close‐up mode does tell the camera to try to select an aperture (f‐stop) setting that results in a short depth of field, which blurs background objects so that they don't compete for attention with your main subject. Julie took this creative approach to capture the orchid in the figure, for example. As with Portrait mode, though, how much the background blurs varies depending on a number of factors.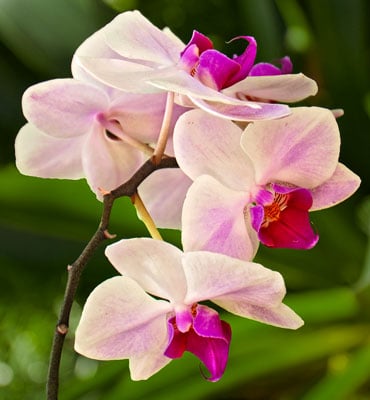 Close‐up mode also produces short depth of field.
For greater background blurring, move the subject farther from the background, use a telephoto lens (or zoom to the longest focal length your lens offers), and get closer to the subject. Also keep in mind that objects in front of your subject may also appear blurry with a very short depth of field.
As far as color, sharpness, and contrast, the camera doesn't play with those characteristics as it does in Portrait and Landscape modes. So in that regard, Close‐up mode is the same as Scene Intelligent Auto and Flash Off modes.
These other settings apply to Close‐up mode:
Drive mode: The Drive mode is set to Single by default, so you record one photo each time you fully press the shutter button. However, you can use any of the other options you prefer. Don't know how those work?

Flash: Flash is set to Auto, so the camera decides whether the picture needs the extra light from the flash. If the camera enables the flash, you can turn Red‐Eye Reduction flash on or off via Shooting Menu 1.

Autofocusing: When you press the shutter button halfway, the camera locks focus, usually on the nearest object (or the Area Frame, in Live View mode). If you have trouble focusing, first make sure that you're not too close up. Remember, every lens has a minimum close‐focusing distance.
About This Article
This article is from the book:
This article can be found in the category: