The figure shows Setup Menu 4 on the Rebel T6i/750D, which you can access only in the advanced exposure modes. Those modes are P, Tv, Av, and M.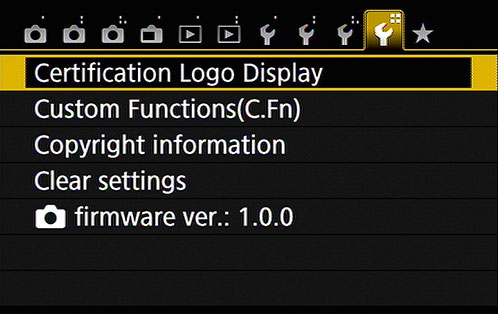 To display Setup Menu 4, you must set the Mode dial to P, Tv, Av, or M.
Certification Logo Display: You have our permission to ignore this screen, which simply displays logos for a couple electronics‐industry certifications claimed by the camera. You can find additional logos on the bottom of the camera.

Custom Functions: Selecting this option opens the door to Custom Functions, which are a set of features designed for people with some photography experience.

Copyright Information: Using this option, you can embed copyright information in the image metadata. Metadata is invisible text data that doesn't appear on the photo itself but can be read in many photo‐viewer programs.

Clear Settings: Via this option, you can restore the default shooting settings. You also can reset all the Custom Functions settings to their defaults.

Firmware Ver.: This screen tells you the version number of the camera firmware (internal operating software). At the time of publication, the current firmware version was 1.0.0.

Keeping your camera firmware up‐to‐date is important, so visit the Canon website regularly to find out whether your camera sports the latest version. Follow the instructions given on the website to download and install updated firmware if needed.
About This Article
This article is from the book:
This article can be found in the category: