Your Canon EOS 77D offers automatic time-lapse photography, which enables you to record a series of shots over a specified period of time without having to stick around to press the shutter button for each shot. You can space the shots minutes or even hours apart, and you can record as many images as your memory card can hold.

Canon calls this feature Interval Timer, and it's located in Shooting Menu 5 when the camera is set to P, Tv, Av, or M exposure modes; in other exposure modes, from Shooting Menu 1.

Enable the feature, as shown in the following figure, and then tap Info or press the Info button to configure the detailed settings. Set the interval between shots and the total number of photos you want to take.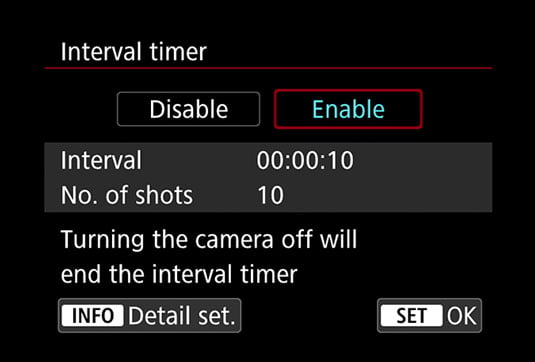 After you enable the Interval Timer feature, press Info to configure the settings.
Several restrictions apply: This feature won't work in Live View or Movie modes, nor can you set the camera to Bulb mode. You have to take the first shot yourself, and you'll get better mileage if you use a sturdy tripod and the optional Canon AC Adapter and DC Coupler instead of a battery.
About This Article
This article is from the book:
This article can be found in the category: