When you first use Live View mode on your Canon EOS 60D, you see your subject and the focusing frame. You can press Info to add basic shooting information (the exposure index, ISO, and battery indicator, to name a few) to the bottom of the display. A second press reveals an assortment of settings along the left side (white balance, AF mode, and so forth). A third press of the button adds a brightness histogram into the mix, and a fourth removes the histogram and adds the electronic level. Press Info again to cycle back to the default display.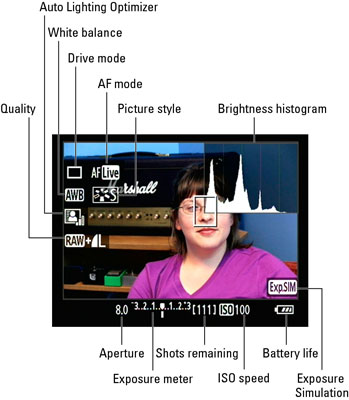 The following list gives you the guided tour:
Data along the bottom of the screen is similar to data you normally see in the viewfinder display.

The Autofocus mode symbol appears regardless of whether you set your lens to manual or autofocus. The symbol tells you which of the three possible Autofocus options is selected.

Some other symbols on the left side of the screen are the same as when you view shooting information in Playback mode. Here's a quick reminder:

Picture Style: Affect picture color, contrast, and sharpness.

White balance: The initials AWB represent Auto White Balance.

Drive mode: For example, Single Drive mode captures one image for each press of the shutter button.

Quality: This icon tells you the selected Quality setting.

AE (autoexposure) lock and flash status are two more symbols you might see on your screen. Neither symbol appears if you don't use these features.

Symbols you might see in the lower-right corner indicate the following:

AEB: This symbol appears when you enable automatic exposure bracketing (AEB). If you see an FEB indication (flash exposure bracketing), that function is possible only when you shoot with a compatible Canon Speedlite external flash. See the flash unit's manual for help with this option.

Exp.SIM: This symbol, which stands for Exposure Simulation, indicates whether the image brightness you see on the monitor is simulating the actual exposure you will record. If the symbol blinks or is dimmed, the camera can't provide an accurate exposure preview, which can occur if the ambient light is either very bright or very dim. Exposure Simulation is also disabled when you use flash in Live View mode.

The brightness histogram is another tool you can use to gauge whether your current settings will produce a good exposure.
About This Article
This article is from the book:
This article can be found in the category: