To select a scene mode on your Rebel T6i/750D, turn the Mode dial to the icon that represents the type of picture you want to take. The figure labels the icons that represent each mode.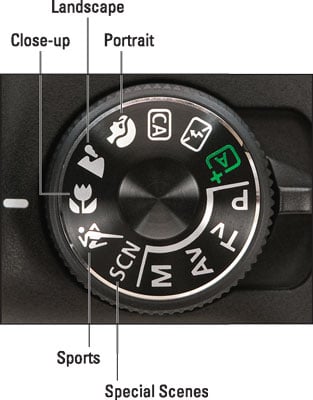 These icons represent automatic exposure modes geared to specific types of scenes.
As for the actual picture‐taking process, everything works pretty much as usual. After you select a scene mode, the Shooting Settings screen displays information similar to what you see on the left in the following figure. The exact information varies according to the scene mode; the figure shows the screen for Portrait mode.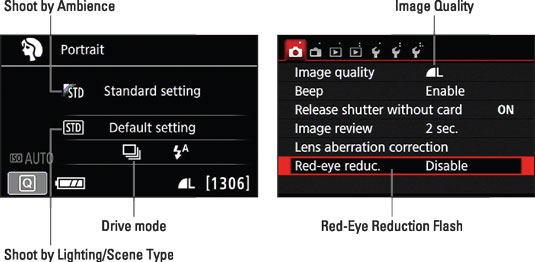 Some scene modes enable you to adjust a few settings via the Quick Control screen or Shooting Menu 1.
Depending on the scene mode, you may be able to adjust the following ­settings:
Shoot by Ambience: This option, available in all the scene modes except HDR Backlight Control, enables you to play with image colors and request a darker or brighter exposure on your next shot. Look for the setting marked by the little triangle symbol, as labeled on the left; adjust the option via the Quick Control screen.

Shoot by Lighting or Scene Type: This option, also labeled in the figure, is available only in Portrait, Landscape, Close‐up, and Sports modes. It manipulates color and is primarily designed to eliminate color casts that can occur in some types of lighting. This setting is accessed by the Quick Control screen.

Drive mode: The icon representing this setting appears in the area labeled on the left. Close‐up, Landscape, Night Portrait, Handheld Night Scene, and HDR Backlight Control modes set the Drive mode to Single (one shot per shutter‐button press) by default. Portrait and Sports modes use the Continuous Drive mode. You can switch to any other Drive mode, however.

Flash: For Handheld Night Scene mode, you can enable or disable flash via the Quick Control screen. For other modes that permit flash, you don't have control over whether the flash fires, but you can enable or disable Red‐Eye Reduction flash via Shooting Menu 1 (refer to the right screen).

Image Quality: You can change this setting, which controls resolution and file type, only via Shooting Menu 1. If you're unsure of which option to choose, stick with the default (Large/Normal). The symbol next to the menu item should look like the one shown — the L with the smooth arc beside it. Note that you can't use the Raw Image Quality setting for the HDR Backlight Control and Handheld Night Scene modes.
These same controls are available from the Quick Control screen in Live View mode.
About This Article
This article is from the book:
This article can be found in the category: