On your Canon EOS 70D, near the upper right of the rubber eyepiece that surrounds the viewfinder is a dial (see the following figure) that enables you to adjust the viewfinder focus to match your eyesight. The dial is officially known as the diopter adjustment control.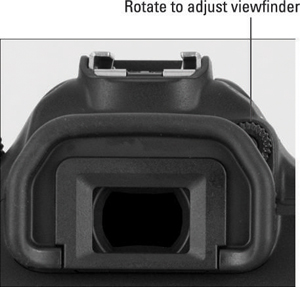 If you don't take this step, scenes that appear out of focus through the viewfinder may actually be sharply focused through the lens, and vice versa. Here's how to make the necessary adjustment:
Remove the lens cap, look through the viewfinder, and press the shutter button halfway to display picture data at the bottom of the viewfinder.

In Scene Intelligent Auto mode (represented by the green A+ on the camera's Mode dial), as well as in some of the SCN (Scene) modes, the built-in flash may pop up; ignore it for now and close the unit after you finish adjusting the viewfinder.

Rotate the diopter adjustment dial until the data appears sharpest.
If your eyesight is such that you can't get the display to appear sharp by using the dioptric adjustment knob, you can buy an additional eyepiece adapter. Prices range from about $15–$30 depending on the magnification you need. Look for an E-series dioptric adjustment lens adapter.
About This Article
This article is from the book:
This article can be found in the category: