One of the many cool features of the Canon EOS 70D is its articulating monitor. When you first take the camera out of its box, the monitor is positioned with the screen facing the back of the body, as shown on the left in the following figure, protecting the screen from scratches and smudges. (It's a good idea to place the monitor in this position when you're not using the camera.) When you're ready to start shooting or reviewing your photos, you can place the monitor in the traditional position on the camera back, as shown on the right in the following figure. Or for more flexibility, you can swing the monitor out and away from the camera body and then rotate it to find the best viewing angle, as shown in the second figure below.

Here you see two possible monitor positions.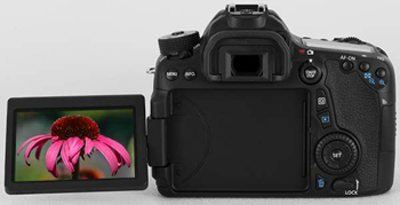 You also can unlock the monitor from the body and then rotate the screen to get the best view of things.
Here are a few monitor-related tips:
Don't force things. The monitor twists only in certain directions, and it's easy to forget which way it's supposed to move. So if you feel resistance, don't force things; instead, rely on that feeling of resistance to remind you to turn the screen the other way.

Watch the crunch factor. Before positioning the monitor back into the camera, use a lens brush or soft cloth to clean the monitor housing so there's nothing in the way that could damage the screen.

Clean smart. To clean the screen, use only the special cloths and cleaning solutions made for this purpose. Do not use paper products such as paper towels because they can contain wood fibers that can scratch the monitor. And never use a can of compressed air to blow dust off the camera — the air is cold and can crack the monitor.
About This Article
This article is from the book:
This article can be found in the category: