Getting the settings right for you Canon EOS Rebel T8i/850D isn't as straightforward as you might think. For some Canon camera options, such as exposure mode, aperture, and shutter speed, the best settings depend on your subject, lighting conditions, and creative goals. But for certain basic options, the same Canon camera settings work well for almost every scenario. The table below offers recommendations for these settings.

The following image shows the information display on your Canon EOS Rebel T8i/850D, where you can see the current status of many of these settings. (You may need to press the shutter button halfway or press the DISP button to view the screen.) Don't forget that by pressing the Q button or tapping the Q touchscreen symbol, you activate Quick Control mode, which enables you to adjust settings right from the screen.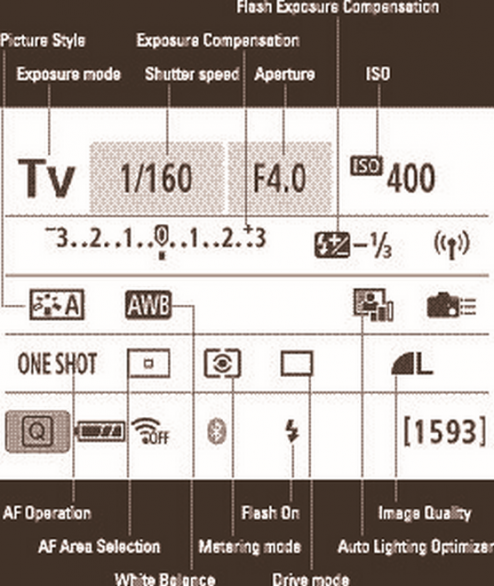 The information display shows the most critical picture settings for your Canon camera.
To adjust the following settings, you must be in advanced exposure modes: P, Tv, Av, or M. Other modes prevent you from accessing settings that can be critical for capturing certain subjects, especially in difficult lighting.
All-Purpose Picture-Taking Settings for a Canon EOS Rebel T8i/850D

| | |
| --- | --- |
| Option | Recommended Setting |
| Image Quality | Large/Fine (JPEG), Raw, or cRaw (CR3) |
| Drive mode | Action photos, Continuous Low or High; all others, Single |
| ISO | 100 |
| Metering mode | Evaluative |
| Exposure Compensation (P, Tv, and Av modes only) | Set as needed; raise value for brighter exposure, lower for darker exposure |
| AF Operation mode | Moving subjects, AI Servo; stationary subjects, One Shot |
| AF Area Selection mode | Moving subjects, Auto Selection; stationary subjects, Single Point |
| White Balance | Auto (AWB), Ambient Priority |
| Auto Lighting Optimizer | Standard for P, Tv, and Av modes; Disable for M mode |
| Picture Style | Auto |
Want to learn more about operating your Canon EOS Rebel T8i/850D? Check out our Cheat Sheet.
About This Article
This article can be found in the category: