Curtains and draperies are chameleons. They work hard at blocking light and sound, heat and cold. They're also extraordinarily decorative and add enormous personality to a room.

What's the difference between curtains and draperies — and does it even matter? Traditionally, windows were treated to three types of curtains: a sash curtain (to filter light), a draw curtain (to block out light), and an over-drapery (which was purely decorative and is now just called a drapery). In very formal rooms (with sufficiently high ceilings), all of this was topped with a cornice or valance (to hide the hardware). This traditional treatment carries on today in period or very formal or dressy rooms.

The modern tendency is to think of curtains as sash curtains (often unlined and in a variety of lengths), and draperies (never drapes) as those that draw, completely closing off the window.

Another modern move is to drape and swag fabric loosely over a decorative rod or pole, in a nod to conventional valances and swags. Often, swags serve no function, but earn their keep by looking dramatic.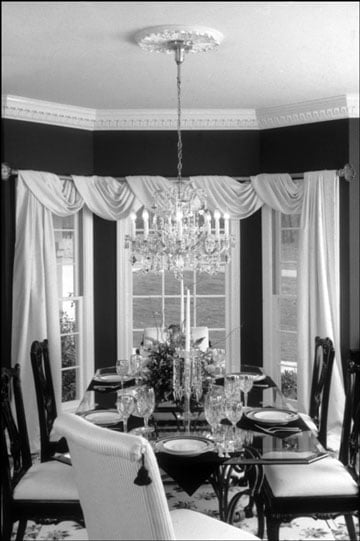 Options
Don't waste time getting hung up on the terminology. Consider the tremendous number of window treatment options you may choose from:
Hang just curtains of lace, cotton, nylon, silk, or some other sheer fabric.
Place a curtain over a blind.
Hang a curtain beneath a chintz, silk, velvet, linen, or other draw drapery.
Hang draw draperies over blinds or some other shade.
Hang draw draperies alone on a decorative pole.
Top curtains with short, purely decorative over-draperies known as swags and jabots.
Top a blind or shade with swags, which drape over just the top of the window and long or short jabots, which hang on the sides of windows.
Top any or all of these window treatments with a cornice or valance.
You can see that the variations are practically endless, especially when you combine these elements with more contemporary window blinds and shades that look like accordion-pleated curtains.

If you're designing your own window treatments, don't hesitate to do up Country-casual fabrics in a fancy, three-curtain and valance window treatment in a formal Country room. The surprise works magic. And, just to be fair, don't be shy about using a lustrous silk fabric for simple tie-back curtains. This look is especially terrific when the silk is in a pink-and-white gingham check.
Lengths
How long should curtains or draperies be? Generally, the longer the curtain or drapery, the more dignified, dressy, and formal the look. Shorter lengths always imply a casual, relaxed, and informal mood. The decision is up to you. Take a look at the following guidelines to find the style that's right for you.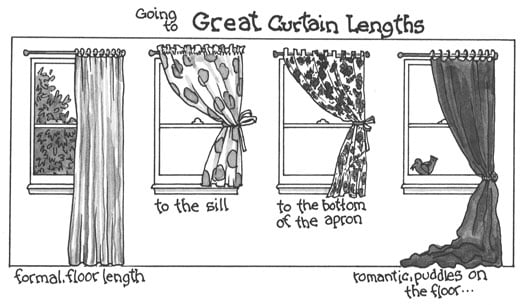 In formal or dressy rooms, curtains should just touch the floor.
A romantic room deserves elegant, extra-long curtains that pool or puddle on the floor.
Curtains to the sill, or to the bottom of the window trim (called the apron), look great and are practical in a kitchen.
Never hang curtains of any length near a stove!
Dens or family rooms gain dignity from draw draperies or curtains that reach to the floor.
Curtains that stop short of the floor, ending at the top of floor moldings, look awkward. If curtains are hung too high, simply lower them (if possible) to solve the problem.
Not all windows are beautiful. Fortunately, draperies can help hide flaws. Here are some ways to make windows more wonderful:
Window too short? Attaching rods just below the ceiling molding and hanging long, to-the-floor curtains make the window look longer and more elegant.
Window awkwardly long? Add a deep cornice or valance above draperies with a bold horizontal pattern. Create further distraction by adding a horizontal line in the form of a strongly contrasting louvered shutter.
Window too narrow? Extend curtain rods beyond the window and hang draperies so that they barely cover the frame, leaving as much glass exposed as possible, all of which makes a narrow window seem wider.
Window too wide? A huge window wall can overpower a room. Break up the space by hanging several panels across the window. They can hang straight, or be tied back in pairs. If draperies must be drawn for privacy, let the panels hang straight and rig drawstrings so that the panels close as though they are separate pairs of draperies.
Creating special effects
If you want privacy but you don't want to cover up your windows, consider the following alternatives to traditional window treatments:
Install stained glass. Stained glass provides a sense of privacy, hides ugly views, and gives you something beautiful to look at.
Consider etched or frosted glass. This provides a degree of privacy but lets in lots of light.
Think about using glass block. The Contemporary alternative to stained, etched, or frosted glass, glass block hides unsightly views and filters light beautifully, while providing a bit of privacy.
If privacy is not a problem and all your window needs to do is let the sunshine in, simply hang a grapevine wreath or silk flower garland above it.
Instant window treatments
Need a window treatment quickly? Try some of the following ideas:
Napkin topper: Fold colorful dinner-size napkins in half on the diagonal and drape them, pointed side down, over a fat, stained or painted, wooden pole. (Use enough napkins to cover the width of the pole.) This is a great technique for a kitchen or breakfast nook.
Faux balloon: Drape a rectangular tablecloth (folded in half lengthwise) over a fat, decorated pole. Six or more inches from one side of the pole, drape a long folded length of ribbon across the pole with loose ends hanging below the cloth. Gather the ribbon ends and pull them up until the cloth begins to swag, and then tie the ribbon into a bow. Repeat on the opposite side. The result looks like a balloon shade.
Lodge-look draperies: Add grommets to one end of a wool plaid blanket. Then run lengths of grosgrain ribbon (long enough to finish in a bow) through the grommets and tie them to a wooden pole or tree branch.
Paper café curtains: Fold butcher's paper (which looks like a paper bag) into accordion pleats, punch holes through the pleats (on one end only), and push a curtain rod through, gathering it gracefully as you create a cafécurtain. (You need a length of paper two to three times the width of your window.)
See also:
Homing in on Hardware for Window Treatments
How to Tell Differences among Fabrics and Fabric Blends
About This Article
This article is from the book:
This article can be found in the category: