Ergonomically designed work surfaces and chairs are available in many affordable price ranges, and are scaled for children and adults. Forget about using a quaint kitchen table and a straight-back chair as your office furniture. You won't find carpal tunnel syndrome, a stiff neck, or other discomforts very quaint when they keep you from doing your job.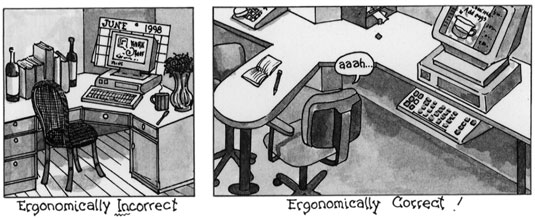 Choosing the right desk
A desk is usually the most important piece of furniture in a home office, so spend some time looking at the options and finding the one that's right for you. To determine how big a desk you need, choose a position for your computer (dead center, on the right, or on the left of the desk). Then figure in enough extra work surface to accommodate the different jobs you do.
Any desk should be at least 24 inches deep. The standard height of desks is 29 inches. A computer keyboard should be between 24 1/2 and 28 inches off the floor.
L-shaped and U-shaped desks provide a wraparound work surface that's easy to use. A P-shaped desk (which is a variation of the L-shaped desk) flares out into a wider semicircle at one end, and it allows for comfortable desktop conferencing. Work surfaces of between 32 and 36 inches wide, flaring to 42- to 48-inch-wide conference table ends, are very popular. Either end of the desk can be attached to a matching, standard 6-foot-long wall unit comprising a desk with a file-drawer pedestal and optional bookcase hutch. These units are available in all price ranges and come in a wide variety of materials, including fancy wood veneers and easily cleaned laminates.
Custom-built and built-in furniture is generally more expensive, but it often makes the most efficient use of space. If space is tight, try building an adequate desktop that's less than the standard 32 inches wide. Or you can even build a desk with a space-saving breakfront shape (which is wider in the middle and narrower on the sides) or banjo shape (wide on one side and much narrower on the other). Some rooms have such odd-shaped nooks and crannies that custom furniture is the only way to use space efficiently. So, although custom costs, consider the possibilities.
You may need a second desk in a different location, just for your own use. If you spend a lot of time conceptualizing, treat this desk and yourself to a view.
Choosing the right chairs
Your best bet is an upholstered swivel chair with five legs for stability and casters for mobility. Choose an adjustable model, one that you can raise and lower and tilt forward and backward. Be sure that the seat is well padded and firm for comfortable support — some of us stay in our chairs for days at a time!
Upholstery should be leather (which is cool in the summer and warm in the winter), a high-quality vinyl, a tightly woven fabric, or see-through mesh that takes up no visual space. The fabric should be easy to clean (especially if you drink coffee and snack at your desk like the rest of us do). Your chair should have open, not confining, adjustable armrests. And before you buy it, try it!
The kinds of guest chairs you need depends upon the number of visitors you have and whether they'll be examining papers (which requires a table) or just chatting while they're in your office. You want to impress a visiting client, but if you don't see many clients at home, your standards may be lower. Guest chairs can be anything you like, as long as they're comfortable and meet your quality code. Wing chairs (add an ottoman if you're going to read) and rocking chairs provide comfortable seating. Place guest chairs beside your desk and at small tables.
About This Article
This article is from the book:
This article can be found in the category: