Walls, floors, and ceilings are your rooms' background. Some people give more thought to the color of these surfaces than the texture. Think of them as equally important. Color can create spatial illusions, but the tactile sense adds another, unique dimension to style.
Traditionally, texture is distributed in the following way:
Use a fine texture on the ceiling (so that it never seems heavy or as though it's falling).

Use a medium texture on walls (so that they seem supportive).

Use a heavier-looking (hard, smooth, and even) texture on the floor (so that it appears sturdy and people can walk on it).
Certain textures and styles traditionally go together. You may pair:
Antique brick with a Traditional family room or a city loft

Barnboard siding with a Country family room

Decorative ceramic tile with a French kitchen

Grasscloth with a tropical room

Stucco with any room in a Southwestern or Tuscan style

Knotty pine boards with an Early American or Country-style interior

Mirror and other glass with a penthouse

Shirred cotton fabric with a room with ethnic origins
Floors are for walking on, so no matter how rustic they look, they must have flat, smooth surfaces. This still leaves room for plenty of textural interest:
Brick contrasts richly with wood paneling and wallpaper and adds a slightly rustic, vintage note.

Ceramic tile contrasts nicely with many wall coverings, such as paneled and faux-painted walls, and can look dressy or relaxed, Historic or Contemporary.

Quarry tile works well with a variety of wall textures, including barnboard, linen-textured wallpaper, and fine or lightly textured paint in a casual room.

Resilient flooring pairs nicely with wall coverings, paneling, plaster, and painted wall finishes and, depending on its pattern, is at home in a variety of room styles and periods.

Wood flooring offers mild contrast, so it relates well to all wall materials and is appropriate for all decorating styles — whether the pattern is dressy or casual.

Wool carpeting with a cut pile provides a contrast to wall coverings, wood paneling, and plaster walls, and wool carpeting generally looks urbane, whether the room style is Traditional or Contemporary.
Country-style rooms often have interesting textured ceilings (with wooden beams that contrast texturally) that need no other decoration. Ceiling textures in Traditional and most Contemporary style interiors are generally smooth.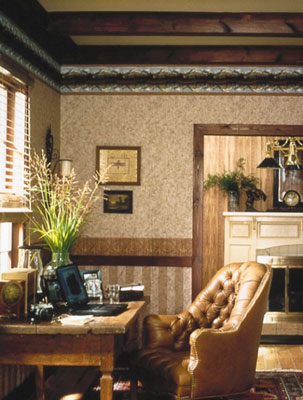 A ceiling places visual and tactile textural interest overhead by the use of contrasting materials.
Furniture frames count, too! Many pieces of upholstered furniture have exposed frames made of wood or metal. Count them, along with upholstery fabric, into your texture mix.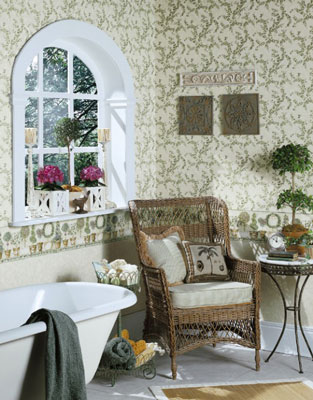 Wicker furniture adds complex textural interest that makes it a natural star.
So consider some of the following tips for using texture in your house:
Texture is all about contrasts. Remember, more contrast means less unity. Keep contrasts subtle in small spaces, but go bolder in larger spaces.

Window shades and blinds in natural wood and metal are relatively high-contrast textures. In small rooms, reduce contrast by visually blending window treatments with walls with the same color.

Shag rugs with furry textures seem bulky, even in light colors. Use them to make big rooms seem smaller. Avoid shags in small rooms.

Sleek textures seem streamlined, lightweight, and Contemporary. They appear to take up very little space. That's what makes them ideal for small spaces. Rooms with backgrounds in these textures may need help from more heavily textured furniture and accessories that add depth, warmth, and comfort.
Texture is key to style. Be as subtle or bold as you want, just don't forget that this powerful tool is part of your decorating bag of tricks, ready, when you are, to rev up excitement and add more interest to that too-quiet room.
About This Article
This article is from the book:
This article can be found in the category: