If you know how to get the Shabby Chic look, you can create a warm, elegant, and inviting space. The Shabby Chic look combines gently aged fabrics and colors in a warm, comfortable palette.
Shabby Chic design, created by Rachel Ashwell, combines the elegance of English Country living with the comfortable casualness of a California lifestyle.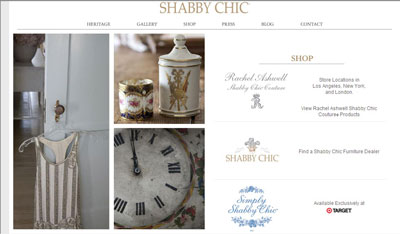 Credit: www.shabbychic.com
Incorporate vintage furnishings and soft colors as part of Shabby Chic design.
Vintage is the key word when decorating in the Shabby Chic style:
Incorporate flea market finds.

Use distressed painted furniture where possible. Your paint job doesn't have to be high quality; the more chips, nicks, and dents the better.

Upholstered furniture should be overstuffed and slipcovered.

Use lots of pillows that are overstuffed and preferably covered in vintage fabrics.

Chandeliers and crystals are the best light features.

Mix and match patterns, from fabrics to dishware.

This faded-glory style paints everything within sight white — antiqued and softened to ivory or linen white — which resonates strongly with lovers of genteel furnishings that appear to have seen better days.

Incorporate vintage in the room (in the fabrics, prints, and just about anything else).

Use fresh flowers extensively.

Fabrics should be soft cottons, poplin, and faded and worn vintage fabrics.
About This Article
This article is from the book:
This article can be found in the category: