Getting the Lodge Look brings the feeling of the Old West to your home. If you know how to get the Lodge Look properly, you can bring the Western style to your home without turning your living room into the OK Corral.
The style of the American West doesn't stand on pretense. It uses comfortable, natural pieces instead of ornate, decorative ones. You want a room that anyone would be comfortable in, from a CEO to a ranch hand.
Because of its emphasis on comfort, the Lodge Look is popular in lodges and vacation homes. It is great for giving people the feeling of getting away from it all. Look to lodge-style resorts to get great ideas.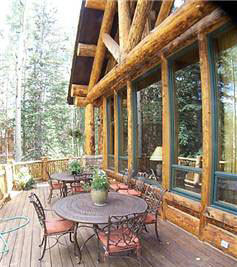 Aim for a comfortable "get away" feeling when decorating with the Lodge Look.
Use American rugs on the floor or, in a Contemporary way, as upholstery.

Western-themed art also provides color direction.

The American West version of this style gets its color direction from Native American rugs with strong reds, blues, and earth tones.

The East Coast Adirondack fishing-camp version uses lots of twig furniture, braided rugs, and typical Autumn-in-New England harvest colors in golds, reds, and strong but softened greens.

Don't forget the birch bark canoe! Elements that bring fishing and other outdoor activities to mind fit in well.

The Lodge Look uses wood and stone elements extensively.
About This Article
This article is from the book:
This article can be found in the category: