The first step for organizing your home is removing the clutter and then making an organizing plan that fits your current lifestyle and can also be adapted when your lifestyle changes. Many challenges are experienced with organizing, and it can be overwhelming to even think about it. The good news is that you can get started with ten minutes a day.

These top ten tips are general, but if you implement these tips into your daily life, I know you can live a happier and stress-free life.
Put things in proper perspective
The gradual or instant accumulation of clutter can be stressful and cause daily stress and challenges. However, there are many steps you can take to mitigate this issue. First, you have to get rid of the physical and mental clutter, and then you need to adopt different practices, habits, and mindsets to keep yourself decluttered. It's important to not let the clutter infringe on your clarity and ability to achieve your goals.

But what I really want to stress about decluttering is that it only helps if you buy less and focus on constantly being on top of the physical and mental clutter. Just telling you to buy less stuff or to get rid of that T-shirt you've had since fifth grade that you are emotionally attached to won't automatically solve your problems. I can give you advice, but you need to change your perspective. It's like going on a diet. If you only temporarily eat better and cut out bad food, the minute you start bingeing again, the weight will come back.

What possessions are essential, and what adds value to your life? What possessions are in the way of you achieving your real goals and desires?

For organizing the items you want to keep, you also need to have a healthy perspective and prioritize items based on your lifestyle. This means getting really clear on what your current lifestyle is — not someone else's, and definitely not what you see in magazines. Look at your decluttering goals and how they relate to your life goals.

Understand what is important to you and your family in terms of where your time is spent and where you know you are losing time and efficiency. Then, make it a priority to improve those areas of your space.
Organize for you, not Instagram
My organizing approach gets down to what is really important in life. Look at your main activities. What do you spend time doing at work and at home? Adapt your organizing systems and routines to your lifestyle.

I also encourage you to organize because it makes you more efficient. I struggle when people ask me for before-and-after pictures because I find that sometimes the after pictures don't look perfect but are the most efficient organizing solutions.

I disagree with articles and photos where everything has to look ultra-organized. When you have a busy life to sustain, this may be impossible and only cause you more stress. Of course, you may want to have things in nice boxes and match your décor and design, but I encourage you to make it functional first, and then you can focus on the pretty.
Tailor your organizing to your clutter personality
Understanding what your clutter personality is can help you overcome the clutter hurdles associated with it. Remember that it is common to have multiple clutter personalities. The personalities include the following:
The Emotional Clutterbug
The "Just-in-Case" Clutterbug
The "I'm Not a Clutterbug" Clutterbug
The "I'll Do It Later" Clutterbug
The "I Can't Decide" Clutterbug
The "Techie" Clutterbug
The Knowledge Clutterbug
The Collector Clutterbug
The "I Can Use It Someday" Clutterbug
One or more of these probably describes your organizing personality as well. When you think about organizing, do you get overwhelmed, procrastinate for another day, or feel like you don't know where to start or can't decide how to organize? First, identify what clutter personality you are and then relate this to how you further organize your remaining items. Get real with yourself about why your organizing personality has been stopping you from getting organized and address this issue head on.

And here are some tips that can apply to any clutterbug:
Commit to regularly evaluating your sentimental items. If you own a box of concert shirts that are tucked away but you never look at them, then why keep them? After regularly committing to evaluating your sentimental items, you may be ready to part with them.
Repurpose sentimental items. You could frame your favorite concert shirts so that they can be visible all the time, and discard the rest. This can bring you more joy and reduced clutter!
Keep only a small dedicated space for sentimental items. Have a space in your home that is precious real estate and dedicate this space to your sentimental items. This will help you be more conscious of what resides there.
Envision the joy of being able to actually enjoy the true sentimental items you do keep. Enough said!
Set aside time to declutter AND organize
Time. Our most valuable asset. You can have more time if you set up organizing systems that fit your current lifestyle.

When you start decluttering, you may need to set a specific time for a few days, weeks, or months to focus on your decluttering goals. Even if it is ten minutes, every day makes a difference.

The same goes for organizing. Once your space is ready to be organized, start scheduling time to stay organized. Put in calendar invites at the beginning or end of your days, enlist your family to be involved, and commit to making organizing time part of your routine.

Use a time cube to help! See the following figure. You can use the time cube for organizing. Set the timer for 15 minutes and devote that time to nothing but organizing.

The time cube is a very straightforward tool to keep you on task and better than a phone time as you won't be distracted with texts, emails, or other notifications coming through. The primary task of the time cube is to countdown the time. The cube has the numbers 15, 30, 45, and 60 on it, and when you place the number side up it starts to countdown and blink red. For some reason, when this timer is blinking at you it keeps your mind focused.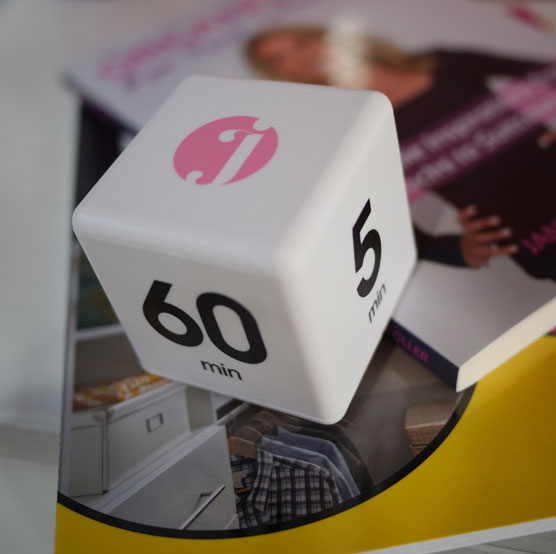 Image courtesy of Jane Stoller
Time cube organizing.
Use boxes, baskets, and other containers
I am advocate of keeping boxes, bins, or cans labeled "Donate," to help encourage daily decluttering. I am also an advocate of keeping labeled bins, baskets, or boxes of the items you do keep to help them stay organized and in good condition.

Keep your organizing routines and the system of bins you use or adapt when needed, and you will soon find you are organizing atomically. Just like your decluttering mentality, organizing is also a mentality.
Conduct organizing challenges
You can have organizing challenges with the people living in your house. Or, like donating something every day, which means that by the end of the year you will have donated 365 items, you can organize something every day.

Humans are competitive and usually do things more easily if they are a bit fun or if there is a challenge attached to them.

Here are a few tips:
Make organizing fun. Use music, friends, champagne, or whatever it takes. Labels, boxes, putting up shelves, and creating organizing spots is always more fun with friends and family. Plus, it will definitely motivate them to get more organized too.
Create organizing games. Create small challenges or judging competitions with your household. For example, do a 30-minute bedroom organizing game and pick a winner based on whose room is the most organized. Or do weekly challenges of who can keep their organized systems the longest. It is surprising how simple tricks can help even the most unorganized household turn competitive around this often-mundane task.
Make a 15-day organizing task list. Each day focus on organizing a different space in your home and stick to the schedule. For example, day 1 organize the junk drawers, day 2 organize your mudroom, day 3 clean out kitchen utensils. The fun is that the tasks can switch spaces everyday making it more exciting than only organizing your kitchen for days. Switch it up.
Hold yourself accountable to staying organized
Commitment is key to staying organized and clutter-free, as is making sure that your friends and family are also aware of your goals and mindset. Here are two tips to help you hold yourself accountable:
Find an accountability partner. Hopefully, those living directly with you will help and be involved, but also look at how others than can help you achieve your goals! Many people want to get more organized but often don't know where to start and would welcome the support.
Plan an event or party to showcase your newly organized space. It is amazing what happens when the pressure is on! Let friends know you're having a party to showcase your newly organized closet, and see how motivated you become to get it done.
Be kind to your items
After you've finished decluttering everything that doesn't serve a purpose, the least you can do for your remaining items is treat them with the utmost respect. Organize not only for efficiency but also for the value you see in the stuff you keep in your spaces.

Giving your stuff a spot in your precious real estate of your home, office, or mind should be a privilege. Make sure your stuff has the proper shelves, boxes, and protection and display it when possible.

After decluttering, what you keep needs to be front and center in your space because it likely (hopefully) serves an important purpose.
Focus your attention on organizing traps
Here are the most common clutter traps that we often forget about and that are often the most disorganized spaces in our homes.
Entryways and mudrooms
These areas can be major clutter traps that we always seem to forget about. The entryway is usually the spot where we enter the house and then typically leave items without giving them a proper home. It's an easy place to also stow-and-go when you're in a hurry and racing to the next meeting or appointment. The key to keeping your entryway and mudrooms clutter-free is to ensure that everything and everyone has a designated space. By "everyone," I don't mean you have to physically have a place for a human to reside but a spot for each person's essential entryway stuff, such as hooks for backpacks and jackets, dishes for keys, bins for hats, and so on. It's important to determine what is needed and then create specific spots for those items.
Paper
Manage your paper trails because they can often become one of the biggest clutter traps!

If you do not use digital organization and do have lots of paper, make sure you have some kind of drawer or basket to put it in. Then when you're ready, deal with it swiftly.

Get rid of flyers and junk mail first and fast. Tear out pieces of things you want to read or catalog items if you need them to avoid keeping what you don't need. Bills, time-sensitive things, correspondence, invitations, and so forth should be dealt with and then immediately discarded. Take a photo of the invite or add dates to your calendar if you want to get seriously organized. I try to focus on the bills first because you usually want to maintain good relationships with the folks who send these, and you want your services to continue, such as electricity.

When you're done sorting and dealing with the important items, you can move on to the leisure catalogs and items you put aside. Keep in mind that the more catalogs you get, the more stuff you want to get. Same goes for certain types of magazines that are known to make us want to consume the newest gadgets and trends. Alas, I enjoy reading about my passions just as much as you do; just be aware of the potential clutter they can tempt you to buy.
Junk drawers
You probably know by now that I don't believe in junk drawers. I believe in what I call an "essentials drawer" for the items that you really need. But simply calling it a junk drawer is something I don't agree with because then you are more likely to fill it with junk. Get rid of your junk drawer once and for all.
Anything that can't close
If your closet drawer is too full and it can't close, this is a pretty clear sign that it is a clutter trap and you need to deal with it. If you can't close your desk drawer because it is overflowing, then declutter and reorganize it.
Boxes that aren't see-through
It's important to label any boxes that are not see-through. I love see-through boxes because you can see exactly what is inside them, minimizing the potential for clutter to build up. Labels are the next best thing if you have a bunch of boxes and need to know what is inside.
Anything behind closed doors
Not only is a door you can't close a problem, but anything you keep hidden behind even doors that do close properly is probably clutter.

There is also unnecessary memory clutter. Your home is not a museum, and, therefore, it is not meant to display or house everything that once created a memory for you. Some people even keep something they don't like or use because someone gave it to them, making them feel guilty to let it go because it cost so much or is rare. However, it's completely useless taking up valuable real estate in your home. And if something really is valuable, then you can donate or sell it and make someone else happy!

The key card from the first vacation with your husband has no meaning to anyone else. But the rule of thumb should be that if it serves no purpose, it has to go.
Don't accumulate in the future
My hope is that after decluttering, you will want to be more careful about the clutter that you could be letting back into your life. I love organizing, but I never want to organize anything that should not be in my space in the first place, so I really try to stick to these tips:
Schedule shopping trips. This helps you avoid overbuying.
Know what you have. You should be able to keep some sort of inventory of items that you know always end up being clutter. A list, app, or photos can help with your inventory tracking.
Envision the rewards of not only how much time you will save in your space but also how much better you will feel with the carefully selected items that remain. A clear space leads to a clear mind!
About This Article
This article is from the book:
This article can be found in the category:
This article is part of the collection(s):