This recipe is a classic and simple version of good old American macaroni and cheese. You can customize this macaroni and cheese recipe by making substitutions, alterations, and additions. The ways you can change this classic are limited only by your imagination.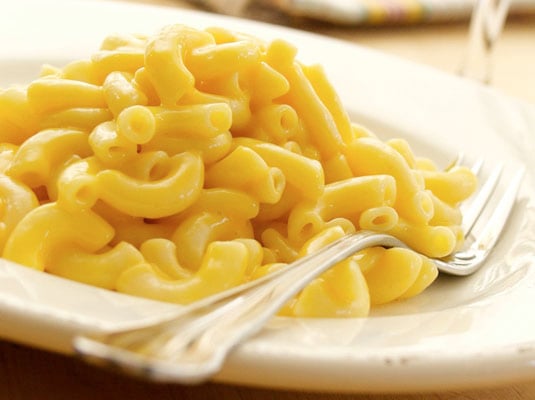 Preparation time: About 25 minutes
Cooking time: About 25 minutes
Yield: 4 servings
2 cups elbow macaroni
2 1/2 cups milk
5 tablespoons butter
3 tablespoons all-purpose flour
1/2 teaspoon paprika
Generous dash of Tabasco sauce, or to taste
2 cups grated sharp cheddar cheese
Salt and pepper
1/2 cup cubed Italian fontina cheese
1 cup fresh white bread crumbs
Preheat the oven to 350 degrees F.

Bring a 4- or 5-quart pot of lightly salted water to a boil.

Add the macaroni and cook for about 6 to 8 minutes, or until just tender.

Be careful not to overcook. The macaroni softens even more when it's baked.

Heat the milk almost to the boiling point in a small saucepan over medium-low heat.

Melt 3 tablespoons of the butter in a large saucepan over medium heat.

Add the flour and whisk constantly over low heat for 1 to 2 minutes.

Don't let it brown.

Gradually whisk in the hot milk.

Add the paprika and Tabasco sauce.

Cook over medium heat for 2 to 3 minutes or until the sauce thickens, whisking occasionally.

Whisk in the grated cheddar cheese and remove from the heat.

Season to taste with salt and pepper.

Drain the macaroni as soon as it's done.

Return it to the pot.

Add the cheese sauce and the cubes of fontina cheese, stirring well to blend.

If the macaroni cooks before you finish making the sauce, drain it and set aside.

Use 1 tablespoon of the butter to grease a deep, 2- to 3-quart casserole dish fitted with a lid.

Add the macaroni and cheese mixture.

Cover and bake for 20 to 25 minutes, until hot.

Melt the remaining tablespoon of butter in a small skillet.

Add the breadcrumbs and sauté over low heat, stirring constantly, until they're moistened but not browned.

Carefully remove the casserole from the oven.

Raise the oven temperature to broil.

Spread the breadcrumbs evenly over the macaroni and cheese.

Return the casserole to the oven, uncovered, and broil for 1 to 2 minutes, or until the crumbs are crisp and browned.

Serve immediately.
Per serving: Calories 732 (From fat 392); Fat 44g (Saturated 27g); Cholesterol 134mg; Sodium 743mg; Carbohydrate 55g (Dietary fiber 2g); Protein 30g.
About This Article
This article can be found in the category: