You have dozens of varieties of olives to choose from, each with a different shape, size, and color. Unlike other fruits (olives are a pitted fruit that arises from tree blossoms), you must cure olives before eating them. Straight from the tree, they're bitter and inedible.
You must taste around to find a variety and brand of olive that you like. Some of the most popular varieties are in this table (as shown in this figure).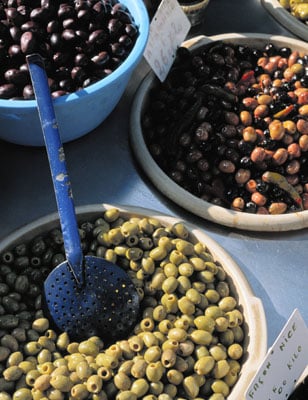 Credit: PhotoDisc, Inc.
Popular Olive Varieties

| Variety | Description |
| --- | --- |
| Cerignola | This enormous olive is sold both green and black. The green variety has a mild and vegetal flavor. When black, the flesh is softer and sweeter, and the pit is much easier to remove. |
| Gaeta | Small brownish black olive that can be hard to pit, but the flavor, which is reminiscent of nuts, is worth the effort. |
| Kalamata | A plump, purplish black Greek variety that's especially popular in U.S. markets and a good choice in most recipes calling for black olives. |
| Niçoise | This small, brownish purple variety grows in southern France. Removing the large pits from these chewy, flavorful olives is hard. |
| Oil-Cured | These wrinkled black olives have a meaty, chewy texture and are often very salty. |
| Sicilian Green | Sometimes called Sicilian Colossals, these oversized olives have a dense, somewhat sour or tart flesh. |
About This Article
This article can be found in the category: