Lemon meringue pie uses eggs in two ways: the yolks for the lemon custard and the whites for the meringue. Make this lemon meringue pie with a premade piecrust, as in this recipe, or make your own crust from scratch.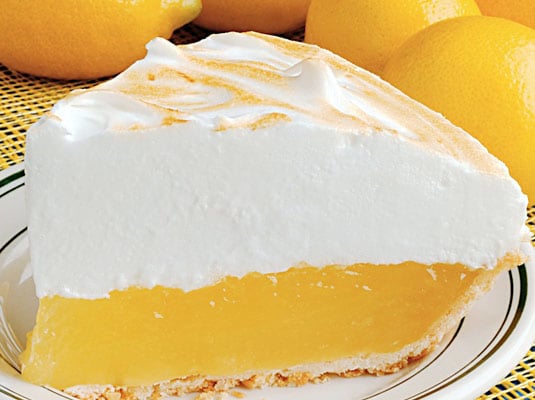 Preparation time: About 20 minutes, plus 30 minutes cooling time
Baking time: About 20 minutes
Yield: 8 servings
1 premade piecrust
4 eggs
1 cup water
1 1/2 cups plus 1/3 cup granulated sugar
1/4 cup cornstarch
1/4 cup flour
2 lemons
2 tablespoons butter
1/4 teaspoon cream of tartar
1/2 teaspoon vanilla
2 tablespoons confectioners' sugar
Preheat the oven to 400 degrees F.

Place the piecrust in a pie pan.

Bake the empty piecrust for 10 minutes.

Remove from the oven and set aside.

Separate the eggs, placing the yolks in one bowl and the whites in a larger metal or glass bowl.

In a small saucepan, bring the water to a boil.

In a medium saucepan, combine 1 1/2 cups sugar, cornstarch, flour, and boiling water.

Stirring constantly, cook over medium-high heat until the mixture comes to a boil.

Remove from the heat and allow to cool for 5 minutes.

Zest and juice the lemons.

Add the butter, lemon zest, and lemon juice to the sugar mixture.

Whisk in the egg yolks until combined.

Cook over medium heat until thick, 5 minutes or less, stirring constantly.

Pour into the piecrust and set aside.

Add cream of tartar, vanilla, confectioners' sugar, and the remaining 1/3 cup granulated sugar to the egg whites' bowl.

Using very clean, dry whisk-type beaters, beat until stiff peaks form.

Completely cover the pie with the meringue, sealing in the lemon mixture.

Bake for 10 minutes, or until the meringue turns a light golden brown.

Place the pie on an oven rack set in the lower third of the oven (to make room for the tall meringue).

Remove from the oven and allow to cool for at least 30 minutes.

Serve at room temperature or cold.
Per serving: Calories 399 (From fat 111); Fat 12g (Saturated 6g); Cholesterol 119mg; Sodium 132mg; Carbohydrate 69g (Dietary fiber 0g); Protein 5g.
About This Article
This article can be found in the category: