These yummy gingersnap cookies are great year-round, but gingersnaps' full-bodied flavor seems to taste best when it's cold outside. The use of both ground and crystallized ginger makes the flavor really sing.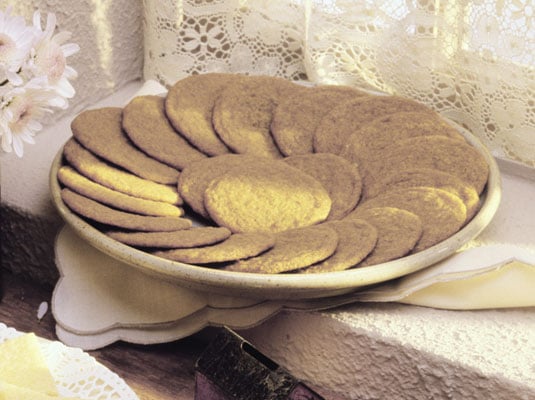 Credit: Ed Carey/Cole Group/PhotoDisc
Preparation time: 45 minutes
Baking time: 12 minutes
Yield: About 4 dozen
2 1/4 cups all-purpose flour
1 teaspoon baking soda
2 teaspoons ground ginger
1 1/4 teaspoons ground cinnamon
1/2 teaspoon ground cloves
1/4 teaspoon salt
2 tablespoons minced crystallized ginger
3/4 cup (1 1/2 sticks) unsalted butter, softened
1 1/4 cups sugar
1 egg at room temperature
1/3 cup dark molasses
Sift the flour with the baking soda, ground ginger, cinnamon, and cloves into a bowl.

Finely mince the crystallized ginger.

Add the salt and crystallized ginger to the bowl.

Toss to blend well.

Using a mixer, beat the butter in a large mixing bowl until fluffy, about 1 minute.

Add 3/4 cup sugar and mix until smooth.

Add the egg and molasses.

Blend thoroughly.

Stop occasionally and scrape down the sides and bottom of the bowl with a rubber spatula.

Add the dry ingredients in three stages, blending well after each addition.

Cover the mixing bowl with plastic wrap and chill the dough in the refrigerator for 30 minutes.

Preheat the oven to 350 degrees F.

If your oven is electric, place an oven rack on the upper shelf of the oven. In a gas oven, place the oven rack on the center shelf.

Line a cookie sheet with parchment paper.

Place the remaining 1/2 cup sugar in a small bowl.

Remove the bowl of cookie dough from the refrigerator.

Dampen your hands with cold water.

Pinch off pieces of dough the size of a walnut, roll them into balls, and roll in the sugar.

Place the balls on the baking sheet, leaving 2 inches between them.

Bake the cookies for 12 minutes, until the cookies are firm and the tops are cracked.

Remove the cookie sheet from the oven and transfer the cookies to racks to cool completely.

Store in an airtight container at room temperature for up to 5 days.

Freeze for longer storage.
Per serving: Calories 61 (From fat 22); Fat 2g (Saturated 1g); Cholesterol 10mg; Sodium 33mg; Carbohydrate 9g (Dietary fiber 0g); Protein 1g.
About This Article
This article is from the book:
This article can be found in the category: