This recipe makes a classic chicken noodle soup, except for one change. Once upon a time, people made chicken noodle soup with the whole chicken, extracted the meat, and threw away the bones. This version uses boneless, skinless chicken breasts, which saves time, is less labor intensive, and is also lower in fat.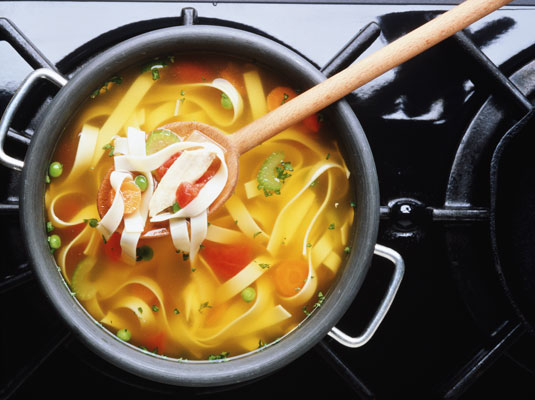 Credit: Michael Lamotte/Cole Group/PhotoDisc
Preparation time:
About 25 minutes
Cooking time: About 50 minutes
Yield: 6 servings
1 large yellow onion
2 cloves garlic
3 carrots
3 ribs celery
2 tablespoons butter
1 teaspoon dried oregano
1 teaspoon dried basil
8 cups canned chicken broth
1 pound boneless, skinless chicken breasts
1 1/2 cups dried egg noodles
1 1/2 teaspoons salt (optional)
Dash of cayenne pepper (optional)
Few dashes of black pepper
Fresh parsley or cilantro, or 1 1/2 tablespoons dried parsley or cilantro
Chop the onion.

Peel and mince the garlic cloves.

You can squeeze the cloves through a garlic press, instead of mincing them.

Peel the carrots and cut them into 1/4-inch rounds.

Wash the celery, trim the ends, and cut into 1/2-inch pieces.

In a large saucepan or pot over medium heat, melt the butter.

Add the onion, garlic, carrots, celery, oregano, and basil.

Stir to coat with the butter and cook, stirring every minute or two, until the onions are transparent but not browned, about 5 minutes.

Add the chicken broth and chicken breasts.

Cover and bring to a boil.

Reduce the heat and simmer, uncovered, for about 30 minutes, or until the chicken is cooked all the way through.

You can cut a piece of chicken open to check.

Increase the heat again and bring to a boil.

Add the egg noodles and reduce the heat again, simmering uncovered until the noodles are tender, about 20 minutes.

Sample a few noodles to make sure they're done to your tastes.

When the noodles are cooked, remove the chicken breasts to a cutting board.

Chop the chicken into bite-sized pieces or shred it.

Return the chicken and any juice to the pot.

Season with the salt and cayenne pepper, if desired, and the pepper.

Chop the fresh parsley or cilantro.

If you're using dried herbs, you don't need to chop them.

Garnish each serving with the parsley or cilantro.
Per serving:
Calories 235 (From fat 102); Fat 11g (Saturated 4g); Cholesterol 66mg; Sodium 1,417mg; Carbohydrate 14g (Dietary fiber 3g); Protein 19g.
About This Article
This article can be found in the category: