Beef, vegetable, and barley soup is comforting on a blustery day. This healthy soup has protein from beef, and fiber from the barley and vegetables. Add more broth if the soup (or any leftovers) becomes too thick.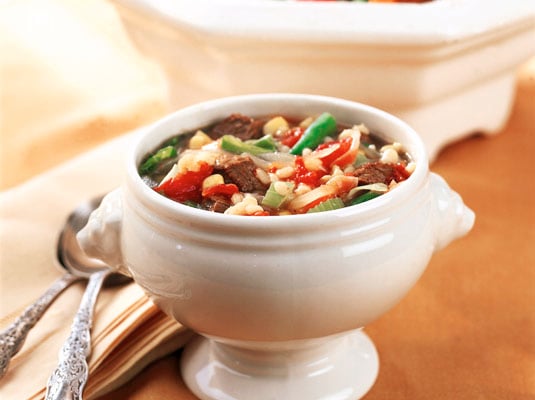 Preparation time: 15 to 20 minutes
Cooking time: 1 1/2 to 1 3/4 hours
Yield: 12 servings
1 28-ounce can whole plum tomatoes with juice
1 pound beef chuck, shin, or bottom round, or 1 1/2 to 2 pounds short ribs
1 medium to large onion
2 medium carrots
2 celery stalks
1 head Savoy or green cabbage
8 to 10 cups beef broth or water
1 10-ounce package frozen corn kernels
1 10-ounce package frozen lima beans
1/3 cup pearl barley
1 bay leaf
1 10-ounce package frozen string beans
Salt to taste, about 1/2 to 1 teaspoon
Freshly ground black pepper to taste
Place the can of tomatoes and juice in a large pot.

Break the tomatoes into pieces with the back of a wooden spoon.

Cut the meat into 1-inch cubes or cut the ribs into pieces.

Quarter and thinly slice the onion.

Slice the carrots and celery.

Shred the cabbage.

In a large pot over medium heat, combine the tomatoes, beef, onion, carrots, celery, 1 1/2 cups cabbage, 8 cups of broth, corn, lima beans, barley, and bay leaf.

Cover and bring to a boil.

Reduce the heat to medium-low.

Simmer, partially covered, until the meat, barley, and vegetables are tender, about 1 1/2 hours.

Using a ladle or skimmer, remove any foam that forms during the cooking time.

Add additional broth if too much liquid has evaporated.

Add the string beans and stir.

Thin the soup, if necessary, with additional broth or water.

Simmer for 15 to 20 minutes.

Season with salt and freshly ground black pepper.
About This Article
This article can be found in the category: