Whip up some delicious Paleo-style homemade chocolate hazelnut spread with this recipe. Use it to complement other treats or simply spread on a piece of Paleo Sandwich Bread.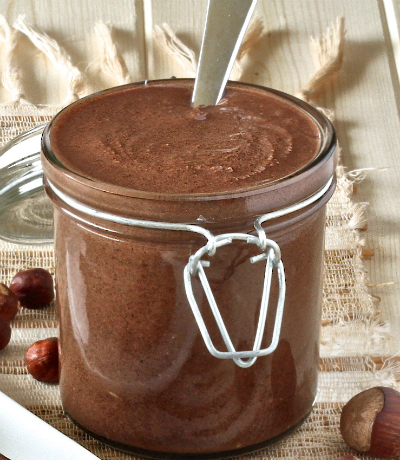 Credit: Courtesy of Adriana Harlan
Preparation time: 20 minutes
Yield: 1 cup (11 servings)
3-1/2 tablespoons Paleo-friendly 100% dark, unsweetened chocolate
1 cup hazelnut butter
1 tablespoon raw cacao powder
2-1/2 tablespoons raw honey, or to taste
1 teaspoon vanilla extract
Pinch of salt
2 tablespoons coconut oil, melted
6 tablespoons almond milk
Melt the dark chocolate in a bowl over simmering water (double boiler).

When the chocolate is melted, remove the bowl from heat and gently mix in the remaining ingredients with a rubber spatula.

Store in an airtight glass jar in the fridge.
You can substitute your Paleo-friendly milk of choice — hazelnut milk, coconut milk, raw milk, or whatever you prefer — in Step 2.
Per serving: Calories 365 (From Fat 280); Fat 31g (Saturated 9g); Cholesterol 0mg; Sodium 31mg; Carbohydrate 17g (Dietary Fiber 7g); Protein 9g.
About This Article
This article is from the book:
This article can be found in the category: