Using healthful and wholesome ingredients, like in this chocolate hazelnut tart with strawberries recipe, you can enjoy sweets when following a Paleo lifestyle. Remember, Paleo isn't like other diet programs that leave you feeling like the only person at the party who can't enjoy a dessert.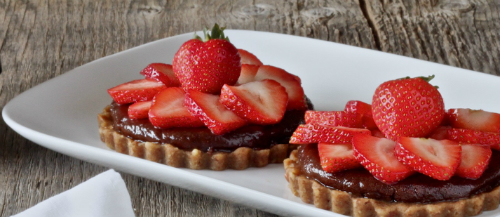 Credit: Courtesy of Adriana Harlan
Preparation time: 25 minutes
Yield: 8 servings
Homemade Chocolate Hazelnut Spread (see recipe below)
1/2 cup Medjool dates (about 6 large dates), pitted
1/2 cup blanched almond flour
1/3 cup pecans, chopped
1/2 teaspoon vanilla extract
1-1/2 cups fresh strawberries, sliced
Process the dates in a food processor until they form a creamy paste.

In a large bowl, mix the date paste, almond flour, pecans, and vanilla by hand.

Spread the mixture onto the bottom of two 4.75-inch removable-bottom tart pans.

Pour the Homemade Chocolate Hazelnut Spread over the crust and top it with the fresh strawberries.
Homemade Chocolate Hazelnut Spread
3 tablespoons Paleo-friendly chocolate chips
1 cup hazelnut butter
2 tablespoons full-fat coconut milk
2 tablespoons raw cacao powder
3 tablespoons coconut oil, melted
1 tablespoon organic coconut palm sugar
1/2 teaspoon vanilla extract
Pinch of salt
Melt the chocolate chips in a bowl over simmering water (double boiler). Remove from heat and stir in the remaining ingredients.
You can substitute pastured heavy cream for the coconut milk in the hazelnut spread.
You can save money by making your own hazelnut butter. Process 2-1/4 cups of blanched hazelnuts in your food processor for a few minutes, scraping the sides as needed, until the nuts are creamy and smooth.
Per serving: Calories 403 (From Fat 278); Fat 31g (Saturated 8g); Cholesterol 0mg; Sodium 26mg; Carbohydrate 28g (Dietary Fiber 8g); Protein 8g.
About This Article
This article is from the book:
This article can be found in the category: