These easy-to-fix and healthful muffins are a great way to start the day. Bananas, nuts, and honey will fill you up and give you energy to take on the morning.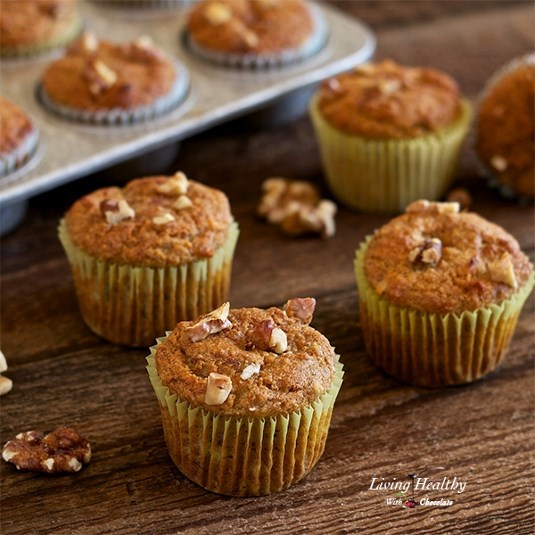 Credit: ©Photo courtesy of Adriana Harlan
Preparation time: 15 minutes
Cooking time: 22 minutes
Yield: 12 muffins
2 cups blanched almond flour
2 teaspoons baking soda
1/2 teaspoon salt
1 cup mashed ripe bananas
1 egg, room temperature
4 tablespoons avocado oil
1 tablespoon vanilla extract
2 tablespoon raw honey
1 tablespoon fresh lemon juice
1/3 cup walnuts, coarsely chopped
1/4 cup coconut flakes (optional)
Preheat the oven to 350°F and line a muffin tin with baking cups. In a large bowl, mix the almond flour, baking soda, and salt.

In a separate bowl, whisk the bananas, egg, avocado oil, vanilla, honey, and lemon juice.

To measure the bananas, first mash them with a fork. It's fine if there a few large chunks left.

Using a rubber spatula, gently mix the dry and wet ingredients. Don't overmix.

Fold the walnuts and coconut flakes into the batter.

Spoon the batter into the prepared muffin tin, filling each cup 3/4 full. Optional: Top your muffins with a chopped walnuts and sprinkle with cinnamon.

Bake until a toothpick inserted into the center comes out clean, about 22 minutes.

Set the pan on a wire rack to cool for about 15 minutes before serving.
Note that 2 cups blanched almond flour = 224 grams.
In place of the avocado oil, you can use melted coconut oil, butter, ghee, or palm shortening.
Coconut flakes is not the same as shredded coconut. When you use coconut flakes, note that the coconut pieces are cut into larger chunks and then dried. This is added to the recipe for texture, but it is optional.
About This Article
This article is from the book:
This article can be found in the category: