You can eat like a (civilized) cave man with this recipe for a one-pot Paleo entree: Slow Cooker Pork and Sauerkraut. The secret to this Paleo pleaser is to brown the pork before adding the sauerkraut. Serve it with unsweetened applesauce and mashed cauliflower on the side, and dig in!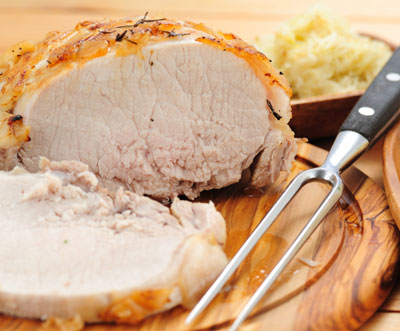 Credit: ©iStockphoto.com/Lehner 2009
Slow Cooker Pork and Sauerkraut
Time: 15 minutes to assemble and 8 – 10 hours to cook.
Yield: Serves 8
2 pounds boneless pork shoulder, trimmed of excess fat and blotted dry
Salt and ground black pepper to taste
1/2 tablespoon coconut oil
2 medium onions, thinly sliced
3 cloves garlic, minced
1 bay leaf
Three 14.5-ounce cans sauerkraut (Bagged is fine too. Either way, check the ingredient label for non-Paleo ingredients)
Cut up the pork.

Cut the pork shoulder into 3- to 4-inch chunks and season generously with salt and pepper.

Brown the meat.

Heat a large skillet over medium-high heat and add coconut oil. When oil is melted, add the pork, browning on all sides. (Browning deepens the flavor.) Brown the pork in two batches so you don't overcrowd the pan. Transfer pork to the slow cooker. (Don't wash the pan, yet. You'll need it for the next step.)

Cook the aromatics.

In the same pan, cook the onions until translucent, about 5 minutes, stirring up any brown bits from the bottom. Add the garlic and cook until fragrant, about 30 seconds. Transfer the onions and garlic to the slow cooker. Add the bay leaf.

Prepare the sauerkraut.

Place the sauerkraut in a colander and rinse with cold water. Squeeze out excess moisture and pile the sauerkraut on top of the pork.

Cover the slow cooker and cook on low until the pork is fork tender, about 8 to 10 hours.

Dish it out and enjoy! Yum.
Per serving: Calories 203 (From Fat 98); Fat 11g (Saturated 4g); Cholesterol 66mg; Sodium 831mg; Carbohydrate 6g; Dietary Fiber 3g; Protein 20g.
About This Article
This article is from the book:
This article can be found in the category: