In the Paleo diet (or cave man diet), crunchy snacks like potato chips aren't approved — but Cocoa-Cinnamon Coconut Chips are satisfyingly crunchable. Here, Paleo-friendly coconut is lightly toasted and sprinkled with sweet seasonings. For something savory, replace the cocoa and cinnamon with garlic powder, chili powder, or garam masala.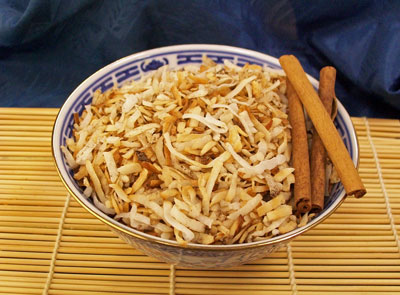 Cocoa-Cinnamon Coconut Chips
Time: 1 minute of prep, and 3 minutes of cooking
Yield: 1 cup
1/4 teaspoon salt
1/4 teaspoon unsweetened cocoa powder
1/4 teaspoon ground cinnamon
1 cup unsweetened coconut flakes
Blend the spices.

In a small bowl, mix the salt, cocoa, and cinnamon with a fork; set aside.

Toast the coconut.

Heat a nonstick skillet over medium-high heat, about 2 minutes. Add the coconut flakes and distribute evenly so that they form a single layer in the bottom of the pan. Stir frequently. When the flakes start to become golden, remove the pan from the heat.

Combine the ingredients.

Sprinkle the spices on the hot coconut flakes and toss until evenly seasoned. Transfer to a plate, arrange in a single layer, and allow them to cool and crisp. Store in an air-tight container.

Serve it up, sweet or savory.

These chips are great on their own for a snack, or you can sprinkle them over fresh fruit for a dessert treat. If you've chosen a savory flavor profile, then toss the chips in a salad for a healthy alternative to croutons.
Per serving (1 teaspoon): Calories 40 (From Fat 33); Fat 4g (Saturated 3g); Cholesterol 0mg; Sodium 38mg; Carbohydrate 1g; Dietary Fiber 1g; Protein 0g.
About This Article
This article is from the book:
This article can be found in the category: